Healthy, crunchy, fresh and infinitely changeable, salads are the pin-up of all that's healthy. Whether snack, side or starter, lunch-on-the-run or sit-down meal, salads can be anything you want. Leafy green salad, potato, rice, pasta or bean salad. Salad for winter, spring or summer. Make the most of the freshest seasonal produce. Or just whip up a salad with what's left in the kitchen. Canned, fresh or frozen, salads don't care. High-end or low-cost. A dollar or 10. It doesn't matter. Because that's not what determines whether a salad is truly awesome.
Making an awesome salad is an art. A salad is so much more than just iceberg lettuce and tomatoes. Salads are vibrant, multi-layered and surprising. Salads when done right are a delight to the taste buds, bursting with flavor, a riot of color and a medley of textures. And no two mouthfuls are the same.
We breakdown the secret on making a salad awesome every time, so all you need to do is paint-by-numbers and voila, before you know it you've whipped together the best salad ever. And we're not just talking how to make a salad that's smattering to the senses, but a salad that's kind to the waistline and filling too!
Ditch the pre-made salads from the supermarket and make your own. Here's your guide on how to make a salad taste awesome.
First, a simple infographic on how to make a salad healthy and supremely delicious.

And now, a detailed step-by-step guide to on how to make a salad.
The first step is to decide what kind of salad you're going to make. Most salads have a base of leafy greens. Greens add crunch, flavor, fiber and plenty of vitamins, antioxidants and minerals. They're low in calories too, coming in at only 10 calories per cup. Opt for darker greens like romaine lettuce, spinach and lamb's lettuce. The darker the greens the greater the nutritional punch.
If you want to keep the taste on the milder side opt for younger greens. Romaine lettuce, for example, comes in a smaller variety, also known as "little gems".
Two cups or more of leafy greens make a great base.
Salad greens to add to your salad include:
Frisée
Lamb's lettuce (mâche)
Oakleaf
Looseleaf lettuce
Red Leaf And Green Leaf
Iceberg
Cress
Mizuna (Japanese greens)
Baby beet greens
Escarole
Radicchio
Cabbage
Mixed Greens
Salads are super versatile and shouldn't be limited to greens as their foundation. Add variety to your salads and opt for a different base. Whether potato, grain or pasta, you'll get a lot more mileage out of your salad.
These salads are ideal to make ahead or to eat on the go. No wilting or soggy salad greens. Plus they can make for rich and comforting winter salads or light and fun summer salads.
Alternative salad bases include:
Potatoes
Rice
Quinoa
Bulgur
Cracked wheat
Couscous
Wheat berry
Millet
Barley
Farro
Squash
Beans
Noodles
Pasta
Try this recipe: Paleo Grain-Free Tabbouleh Salad
This is where you get to add juiciness and a plethora of flavor, texture and colors. Vegetables also make the salad filling, are low in calories and massively boost the nutritional content of your salad. Creamy avocado, crunchy radishes or juicy bell peppers.
The more color and variety you inject, the greater the range of nutrients you'll be adding to your salad. Green, red, yellow, orange, purple vegetables often boast different vitamins, minerals and other wholesome goodies. Plus it's pleasing to the eye, which means it's psychologically more appetizing to eat. In other words, your mouth will be watering long before you take your first bite.
Choose at least 2 types of produce and aim for about 2 cups of produce in total.
Vegetables to add to your salad include:
Artichoke
Asparagus
Beets
Bell Peppers
Broccoli
Brussels sprouts
Carrots
Cauliflower
Celery
Corn
Fennel
Cucumber
Green Beans
Onions
Mushrooms
Jicama
Pea pods
Peppers
Radishes
Squash
Tomato
Don't forget fruit! Adding a whole different set of nutrients, intense flavor and texture to your salad, fruit can take your salad to another level. Making it more interesting and special. It can make an ordinary salad extraordinary without any effort at all.
Apples, pears, and pineapple, or bite-sized fruit such as grapes, pomegranate, and berries, elevate any salad.
Fruit to add to your salad include:
Apples
Apricots
Avocado
Berries
Grapes
Grapefruit
Kiwi
Mango
Mandarin
Mango
Melon
Orange
Peaches
Pears
Pineapple
Plums
Pomegranate
Watermelon
Turn your salad from a mere starter into a meal all its own. Foods such as meat, fish and dairy will make your salad more filling and provide a good dose of protein.
Be aware of your choices, as a misstep here can turn a good and healthy salad into a calorie bomb. Go for lean sources of protein such as grilled chicken, turkey, lean cuts of meat, fish, legumes, and hard-boiled eggs.
Save the protein that comes with a bigger dose of calories, like cheese, nuts, and seeds for the next step. Season fresh poultry, meat and fish for an extra flavorful salad.
Aim for ½ cup of legumes or tofu, 2 ounces of meat or seafood, or 1 egg.
Protein rich ingredients to add to salad:
Vegan: Sprouts, tofu, and tempeh
Legumes
Black Beans
Chickpeas
Edamame
Garbanzo beans
Kidney Beans
Lentils
Lima Beans
Peas
Pinto Beans
White beans
Meat, Fish & Seafood
Clams
Crab
Trout
Tuna
Salmon
Sardines
Scallops
Shrimp
Beef
Chicken
Ham
Lamb
Pork
Turkey
Eggs
Try this: Grilled shrimp panzanella salad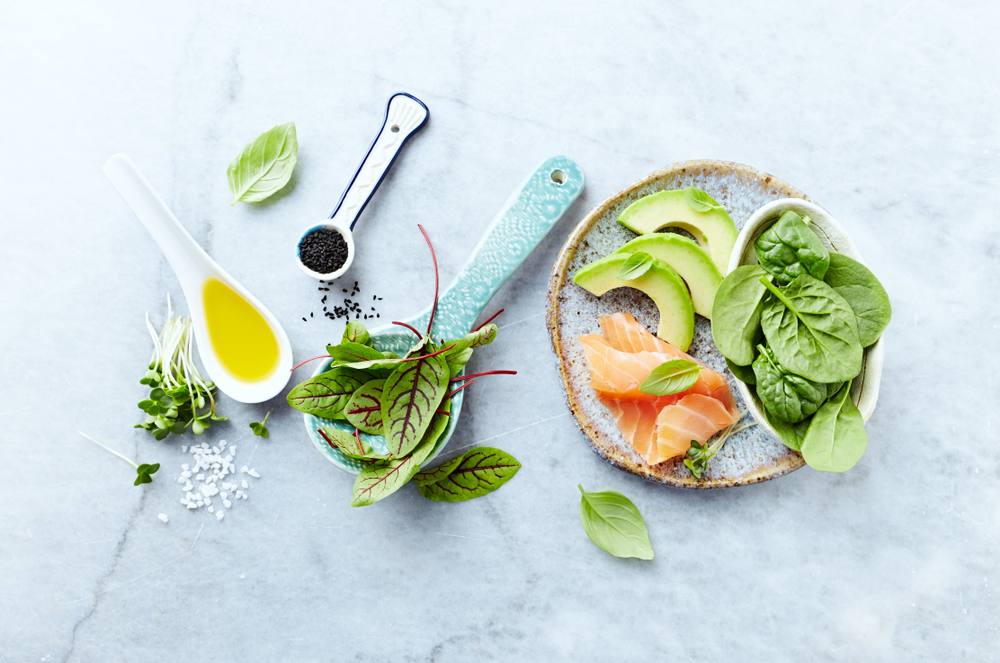 Here's where you turn your salad into the spectacular. Salads aren't just about flavor, but texture. Give both a boost and you'll hit it out of the park. Top salads with crunchy croutons, nuts and seeds, or introduce intensely flavorful extras like olives, sundried tomatoes, bacon bits, crumbly cheese or dried fruit.
These boosters are extremely effective, packing in a lot of texture and bursting with flavor, so you don't need much. Some of these add-ins boast a lot of healthy nutrients, others not so much. But what they've all got in common is that they're higher in calories, giving you another reason to go easy on the extras.
Add texture by toasting whole-grain bread cubes or whole-wheat tortilla strips and skip the fried croutons to save calories. Herbs and spices are an easy and effective way to greatly enhance flavor without adding calories. When it comes to taste (and nutrients), fresh herbs trump dried.
Flavorful ingredients to add to your salad:
Flavor & texture boosters
Bacon Bits
Chestnuts
Chow Mein Noodles
Cranberries
Croutons
Jalapenos
Olives
Pesto
Pickles
Popcorn
Quinoa (toasted)
Raisins
Salsa
Tortilla/ pita chips (crumbled)
Nuts (almonds, cashews, peanuts, pecans, walnuts)
Seeds (chia, flaxseed, pumpkin, sesame, sunflower)
Cheese (blue cheese, cheddar, cottage, feta, mozzarella, Parmesan, provolone, Swiss)
Herbs and spices
Chives
Cilantro
Dill
Fennel
Lavender
Lemon grass
Mint
Oregano
Parsley
Sorrel
Tarragon
Thyme
Allspice
Caraway seeds
Cinnamon
Clove
Cardamom
Ginger
Horseradish
Mustard
Nutmeg
Paprika
Pepper
Salad dressing is the icing on the cake, so to speak. The dressing can really make a salad. Too much and it can overpower and drown it out. But just right it will bring out the flavors and all that's good about it. A mediocre salad might need to be smothered with dressing, just for it to taste of something. But an awesome salad doesn't need much dressing. It's already bursting with flavor, juiciness, and crunch. So you'll need no more than two tablespoons of dressing.
Another reason to go easy on the dressing is that many store-bought salad dressings are high in calories, saturated fat, and sodium. As a general rule vinaigrette dressings, which have a base of oil and vinegar, are lower in calories and also healthier. While creamy salad dressings, which have a base of mayonnaise, buttermilk, heavy cream, yogurt, or sour cream, are calorie-rich and less healthy.
Go for low-calorie dressings or vinaigrette. Vinaigrettes have bold flavors and are super easy to make. So do like Paul Newman and make your own.
Balsamic Vinaigrette
Ingredients:
2 tbsp balsamic vinegar
2 tsp Dijon mustard
5 – 6 tbsp extra virgin olive oil
2 tbsp finely chopped shallot or sweet onion
Salt and pepper to taste
Instructions: In a small bowl, whisk the vinegar with the shallot and Dijon mustard. Slowly whisk in the olive oil until emulsified. Season with salt and pepper.
Creamy Homemade Caesar
Ingredients:
1/3 cup plain fat-free yogurt
2 tbs fresh lemon juice
1 tbs olive oil
2 tsp red wine vinegar
2 tsp Worcestershire sauce
1 tsp anchovy paste
1 tsp Dijon mustard
1 garlic clove, minced
1/2 tsp freshly ground pepper
Instructions: Combine all ingredients in a bowl; stir well until evenly mixed