Quite possibly the easiest frozen sweet treat you can make. Beautiful, bright, and super easy, these very pretty whole fruit popsicles don't even require a blender. So, if it's too hot to move and you're looking for a frosty treat that requires the most minimal of effort, look no further than these homemade popsicles.
Because it really doesn't get much simpler than this. These whole fruit popsicles are made with just 2 ingredients, though you can add more if you like. All you need is some fruit, liquid, and ice pop molds.
Whole Fruit Popsicles Ingredients
Fruit. Choose your favorite fruits. If you're using not so sweet fruits (e.g. blue berries, grapefruit) fruits add sweeter liquid to balance the flavors. Or add sweeter fruits (e.g. melon, pineapple).
Liquid. Add you favourite liquid. Clear or slightly colored liquids look very pretty. For example coconut water, grape juice, apple juice, cranberry juice, fruit or herbal tea – cooled, or lemonade.
They're an ingenious way of using up left over fruit and you'll make them in an instant (freezing time not included!)
These fruit popsicles are also healthy because they're made with whole foods. So you can enjoy a healthy sweet treat without worrying about the risks of processed food.
You can use virtually any combination of fruit and liquid you like, or follow this recipe for a delicious and colorful popsicle. These ice pops are so pretty, you'll want to post it on Instagram before you take a bite.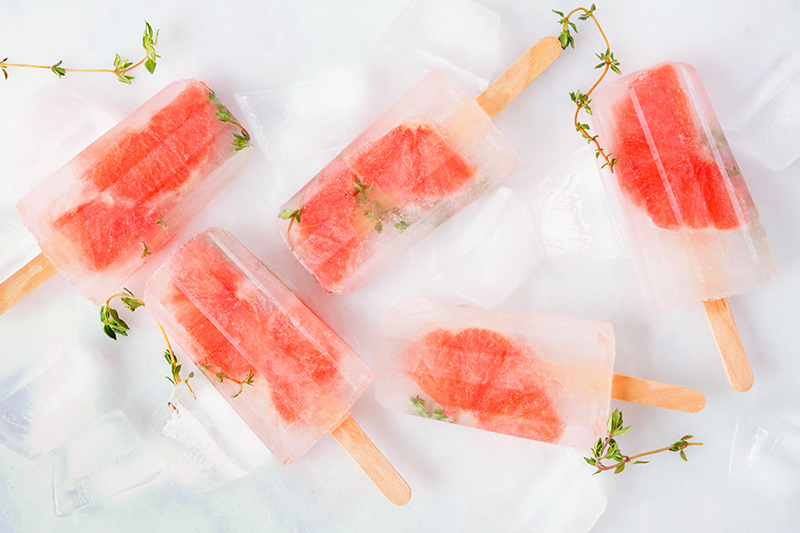 Literally packed with whole foods, these popsicles are a delicious and über-healthy treat.
Print Recipe
Pin Recipe
Ingredients
2-3

cup

fruit

(sliced or whole small berries)

2

cups

liquid

(juice, water, tea, or lemonade)
Instructions
Cut larger fruits into ¼ inch slices.

Pack fruit into the molds. Press and line the sides and bottom of the mold with sliced fruit. This adds structure and makes the ice pops pretty. It also allows you to insert the ice pop stick into the middle of the ice pop, between the layers.

Drop smaller fruit such as blueberries between larger pieces of fruit to fill the gaps. Use an ice pop stick or butter knife to gently nudge smaller pieces into gaps. Add as much fruit as you are able to fit into the mold.

Fill the molds with juice, tea, lemonade, or water. Insert an ice pop stick into the middle of each mold between the layers of fruit. Place in freezer for at least 6 hours.
Tip
If making an ice pop with less fruit, add some of the fruit and fill the mold about ¼ full (small fruit) to ½ full (larger slices of fruit) with liquid. Place in the freezer for about 30 minutes or until the layer has set. Then add more fruit and pour in the remaining liquid.