Most popsicles are made with a few key ingredients. This guide simply provides an overview of how to choose the best ingredients for your popsicle, to aid flexibility, and allow you to change any recipe on the fly.
It allows you to adapt the base popsicle recipes to suit your diet, tastes, and the ingredients you have to hand.
So we show you how to make popsicles with these core ingredients. You might not need all ingredients. For example, some popsicle recipes may not call for dairy (e.g. pure fruit popsicles), while others might not require fruit (e.g. chocolate popsicles).
But whatever type of popsicle you're making, this guide explains how to make a popsicle come out perfectly each time.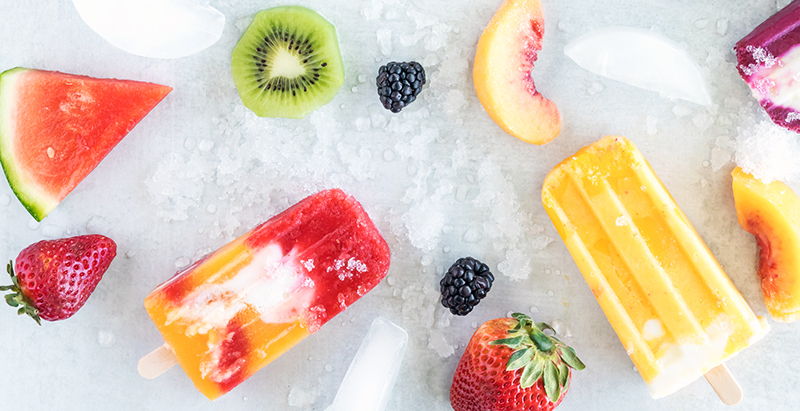 Go for ripe, preferably seasonal fruit to get full-bodied, bright fruity flavors. And, the sweeter the fruit, the less sweetener you need to add.
If you can, go for fresh fruit over frozen. Fresh, ripe fruit has a stronger, fruitier, more nuanced and well-rounded flavor than frozen fruit, and ice pops will tend to need less sweetener.
Super smooth. For extra smooth ice pops blend ingredients until smooth. Then strain mixture through a fine-mesh sieve to remove skin and seeds, and prevent mixture from separating.
Chunky. For a chunkier texture, blend the mixture for a shorter time so it is semi-puréed and maintains some texture.
With fruity bits. After pouring mixture into mold, add thin slices or chunks of fruit. To prevent fruit pieces from sinking to the bottom (not as much an issue with thicker, creamy ice pops), fill mold only a quarter full. Allow to freeze a little (30 minutes should be plenty), then add more pieces of fruit and pour rest of the mixture into the mold.
For an ice pop that is a little more avant-garde add some vegetables. Blend fruit with mild vegetables such as cucumbers and spinach, or cooked, sweet veggies (e.g. beetroot, carrot, corn, sweet potato).
Fruit Compote
You can make a simple fruit compote by cooking fruits such as berries and apricots concentrating the flavor. It's quick and super easy!
Combine the fruit, sugar, lemon juice, and salt in a pan, and cook over medium heat. Stir mixture until it becomes syrupy, about 5 minutes. If using frozen berries, add a few more minutes cooking time. Allow to cool, and simply follow the rest of the instructions for the ice pop you're making.
Good for: Ice pops that contain fruit and cream. The cream balances the intense flavor of the fruit. Try it in creamy fruit ice pops or swirly ice pops that combine fruit and cream (e.g. blueberry swirl).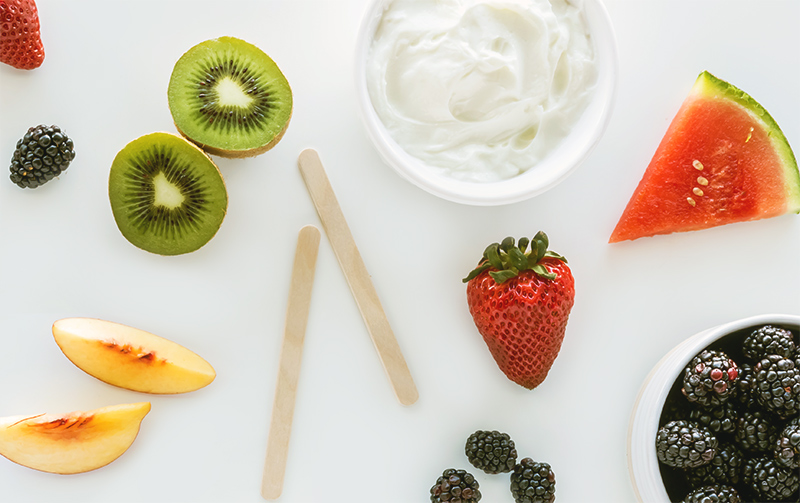 Add milk (including plant-based), yogurt, heavy cream, coconut cream, half-and-half, or condensed milk. For creamy ice pops use dairy with a higher fat content.
Whole Greek yogurt makes for very creamy ice pops, and is a healthier alternative to heavy cream. You can add a little heavy cream to Greek yogurt to make it even creamier, and round out the flavor. A ratio of about ¼ cup cream to ¾ cup yogurt, will suffice.
Coconut milk is also absolutely delicious, super creamy, and vegan too.
Combine lighter dairy such as milk or yogurt with heavy cream or coconut cream. Try a ratio of about 2 cups light dairy to 1 cup cream. Or switch it up, with 2 cups cream to 1 cup dairy for a super creamy ice pop.
Milk & Low-Fat Dairy
Milk (except coconut milk and evaporated milk) and low fat dairy contain more water, resulting in icier popsicles.
Thickeners: Banana, avocado or nut butter are great ingredients to add to ice pops made with milk, as they will make ice pops creamier.
You can also use cornstarch to thicken the mixture, though this will require an extra step at the stove. 
How to Thicken Low-Fat Dairy with Cornstarch
Mix 1 – 2 tablespoons of cornstarch with a few tablespoons of milk in a saucepan to make a smooth paste.
Whisk in remaining milk/ cream (and add other dry ingredients such as sugar, if using) and bring to simmer.
Continue to whisk mixture and cook for two more minutes.
Allow to cool, and continue to follow rest of ice pop recipe instructions.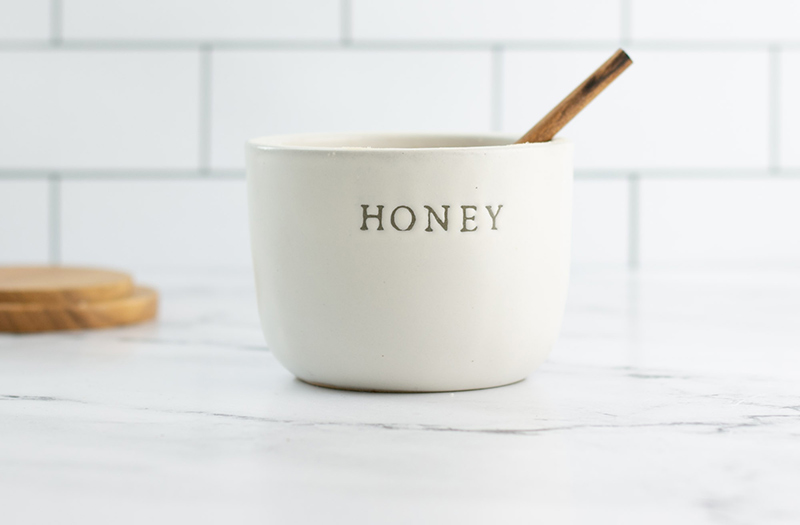 Sweetness plays a key role in making a good ice pop.
It sweetens and brings out the flavors of the fruit and other ingredients. This is important because freezing reduces the ice pop's flavor and sweetness.
Sweetener is crucial to the texture of the ice pop. It makes the ice pop smooth, creamy, and less icy.
Fruit popsicles don't need much sweetener (if any), as fruit already contains natural sugars. The sweetness of the fruit will vary with the type of the fruit and it's ripeness.
Liquid sweetener. Generally, use a liquid sweetener for ice pops. Runny sweeteners such as honey, agave nectar, and maple syrup mix perfectly in room-temperature liquid.
Sugar. Does not dissolve as well, unless you're working with a warm liquid. Therefore, reserve sugar for ice pops that involve cooking.
You can turn sugar into liquid form by making simple syrup. Simply put water and sugar in a small saucepan and bringing it to the boil. Just allow to cool before adding.
Types of Sweetener
Honey
Maple syrup
Agave nectar
Sugar
Simple syrup
Stevia
Sweeten popsicles to taste. Freezing dulls the tastebuds a little, so the popsicles will taste less sweet once frozen than the popsicle mixture.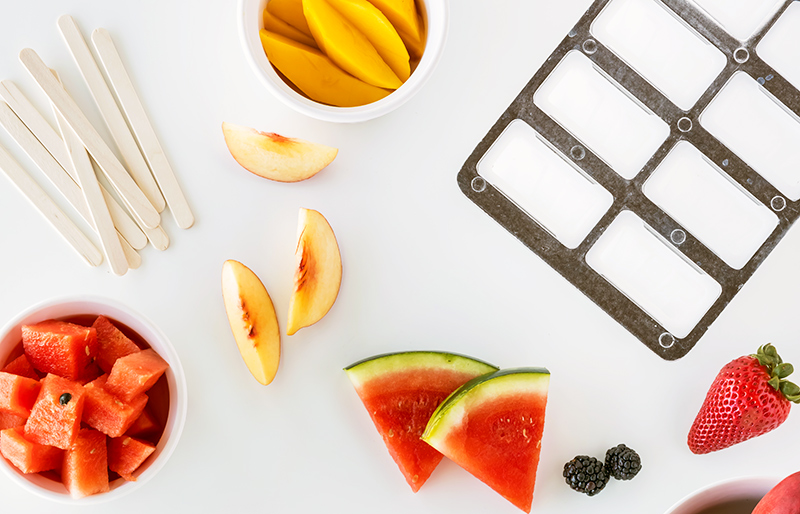 Citrus juice. This helps to bring out the flavor of the fruit. Add the juice of lemon, lime, orange, grapefruit, or other citrus.
Salt. As with everything, salt brings out and intensifies the flavors, including the sweetness of the ice pop.
Liquids (non-dairy)
Fruit ice pop can be made with a wide variety of liquids. Types of liquids include:
Water
Lemonade
Coconut water
Tea
Kombucha
Fruit juice: apple, acai, cranberry, grape, orange, pomegranate, pineapple, and tropical fruit juice.
Vegetable juice: beet, carrot juice.