A major reason for the popularity of smoothies is their chameleon-like ability to be transformed into whatever you need them to be. Whether you just want a sweet treat, a workout drink, a health-boost or want to lose weight – smoothies can do it all. It's what makes them so great, well that and the fact that they are excessively delicious.
Smoothies & Weight Loss
Because smoothies are so adaptable and mouthwateringly yummy, it's easy to get carried away and add ingredients that turn your smoothie into a sugar-loaded, super-sweet calorie bomb and to supersize your portion size.
But healthy foods have calories too, and when it comes down to basic math, they count just as much as any other calorie (calculate you daily calories needs with this calorie calculator)
All that to say this, you need to have a clear idea why you are making a smoothie in order to control what ingredients you're adding and how much you're making.
Furthermore, while a healthy low calorie smoothie can be a great addition to a weight loss diet, as done right it is packed with vitamins, minerals, antioxidants, fiber, and even protein, it's only one part of the whole (read ).
To lose weight healthily, you also need to consider the rest of your diet, incorporate a weight loss workout plan if you are able, and keep an eye on other areas such as your sleeping habits and stress levels. This holistic approach is key to achieving healthy and sustainable weight loss results.
Read more: How to lose weight
Healthy Weight Loss Smoothies
An oft cited rule of weight loss is to avoid drinking your calories. Therefore, it is important that a weight loss smoothie isn't simply a drink, but more of a filling meal or snack.
A nutrient-rich smoothie allows you to cut back on calories to lose weight, but provides your body with sufficient vitamins, minerals and other micronutrients important for good health.
This will help the weight loss process too. If you are nutritionally deficient, you're more likely to be tired, struggle with food cravings, feel sluggish, or suffer outright ill health.
Goal: A healthy weight loss smoothie should be low in calories, high in nutrients, and filling.
Read more: 18 Healthy smoothie recipes
So, let's get into how to make a weight loss smoothie in detail.
Step-by-Step
How to Make a Weight Loss Smoothie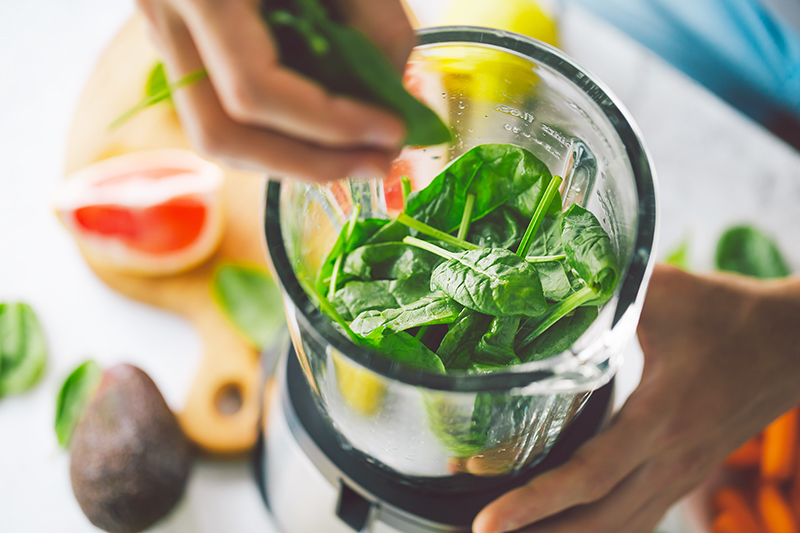 1
Choose Your Base Liquid
Water has, of course, zero calories, and will be the lowest calorie liquid, along with tea, that you can add to your smoothie.
Milk will add micronutrients and protein to your smoothie. Coconut water is rich in electrolytes, making it hydrating and a natural energy drink.
As a rule of thumb, don't add fruit juices to a weight loss smoothie. First of all, you're adding whole fruit to your smoothie, so you don't have to add fruit juice too. It's overkill. Furthermore, in fruit juice the fiber has been removed from the fruit, leaving it high in sugar and calories. Adding green juices is fine – in fact great!
Below, you'll find a list of different liquids to add to your smoothie:
Cow's Milk
Vegan milk
Coconut water
Tea (herbal, green, black)
Black coffee
Kombucha (unflavored)
Whole (cow's) milk may be higher in calories than skim milk. However, dietary fat is important in helping you feel satiated. Indeed, research suggests that high-fat dairy products (e.g. milk, yogurt), may help prevent weight gain.123
Use water, tea, coconut water, or milk as your smoothie base to make it a low-calorie smoothie. Skip the juices – they'll increase the calorie content of the smoothie, and you'll probably be adding fruit anyway.
---
2
Add Fruit & Veggies
Fruit and vegetables will make up most of the carbohydrate and fiber content, and much of the nutrients in your smoothie. Fruit makes smoothies tasty, but tends to be higher in calories than vegetables.
Read more: How to make a smoothie without banana
Watch your portion sizes when adding fruit. Aim for no more than 2 cups of fruit per serving.
If you can, try to add leafy greens to your smoothie. If you've never had a green smoothie, start by adding a ½ cup of raw baby spinach (check out health benefits of green smoothies). You wont taste it!
Watch your portions of fruit, keep to about 2 cups per serving. There's no limit on leafy greens.
Read more: How to make a green smoothie
---
3
Add Protein
Weight loss smoothies that serve a meal replacement shake (e.g. instead of breakfast) should ideally include protein. Protein helps you feel full, and helps make your smoothie more of a meal.
Protein is also important to maintain muscle mass. During weight loss, you tend to lose some muscle along with body fat. How much muscle you lose will depend to some degree on how much protein you're consuming.
Furthermore, if you're exercising, fuelling your muscles with protein will aid recovery from your workout and maximize your results. So any post-workout smoothie should include protein.
Good protein sources include the following:
Greek yogurt (twice as much protein as regular yogurt)
Yogurt
Kefir
Silken tofu
Cottage cheese
Ricotta cheese
Protein powder (e.g. whey, hemp, pea, or brown rice protein)
Beans
Add protein to make your smoothie filling, feed your muscles and to make it more of a meal.
Read more: Best vegan protein sources
---
4
Add Healthy Fat
Fat really has got a bad rap. Yes, fat is high in calories, but fat in moderation has it's place in good health and even weight loss.
Fat helps your body to absorb certain vitamins and is vital for proper growth, development and general good health.
Fat is also important because it provides taste to foods, smoothness to smoothies, and, significantly, helps you feel full and less hungry. Just think about, when was the last time you ate a no-fat diet-food and felt happy about it and satisfied? Likely, never. Furthermore, some healthy fats (e.g. in olive oil, avocado) can actually help you lose belly fat!45
Adding a little fat to your weight loss smoothie will make it more effective in warding off hunger and keeping you healthy. Just be sure to add healthy (monounsaturated and polyunsaturated) fats.
If your smoothie doesn't have any ingredients that contain fat already (e.g. whole milk), add 1 tablespoon of healthy fat per serving:
Nuts/ nut butters/ seeds (also doubles as a protein source)
Avocado (great alternative to bananas for adding thickness and smoothness)
Coconut oil
Flaxseeds/ flaxseed oil
Chia seeds
Tahini (sesame paste)
Add 1 tablespoon of healthy fats such as avocado, nut butters, and flaxseeds. Healthy fats are important for optimal health, help your body absorb nutrients, and make weight loss smoothies more satisfying.
---
5
Make it Thick
Make your smoothie filling by adding ingredients that thicken the smoothie, if you haven't already. Great smoothie-thickening ingredients include:
Chia seeds
Frozen fruit
Oats
Flaxseed
Beans
Ice
Read more: How to make a smoothie thick and creamy
---
6
How to Sweeten
Unbelievably, this is the reason it is vital you whip up your own smoothies. Bought smoothies often contain a huge amount of added sugar, with some popular smoothies containing several times the entire recommended daily amount of sugar in one smoothie! Even "light" smoothies easily exceed the daily-recommended amount, and add artificial sweeteners on top of that to boot.
Ripe fruit: Generally, use ripe fruits in your smoothies. They give you the most bang for your buck, in terms of sweetness, making it less likely that you'll need to sweeten your smoothie further.
Spices: Add spices such as cinnamon and nutmeg, and extracts such as vanilla and almond, which sweeten without adding calories.
Natural sweeteners: If you do need a little extra sweetness, use natural sweeteners like stevia (no calories) or xylitol (tastes almost like sugar and has health benefits) to sweeten your smoothie.
You can also use honey, molasses or maple syrup, which, unlike stevia and xylitol, contain nutrients, but are higher in calories. However, beware that some sweeteners like xylitol can cause bloating. Below, you'll find the calorie content of 2 teaspoons of sweetener.
| 2 teaspoons | Calories | Carbs |
| --- | --- | --- |
| Stevia | 0 | 0g |
| Xylitol | 20 | 4g |
| Blackstrap molasses | 32 | 8g |
| Honey | 43 | 11g |
| Maple syrup | 45 | 9g |
Go easy on the sweeteners. Try to use only fruit to sweeten your smoothie. But if you need a little more stick to natural sweeteners such as molasses, xylitol and honey.
---
7
How to Boost Flavor
Boost the flavor and nutritional power of your smoothie without adding calories by adding spices, extracts or fresh herbs.
Herbs: Mint, basil, lemongrass, lavender, cilantro/coriander (green smoothies), parsley (green smoothies)
Spices: Cinnamon, nutmeg, allspice, ginger, clove, cardamom, cayenne pepper
Extracts: Vanilla, almond, coconut, peppermint / mint extract
Fruit: Lemon/ lime juice
Increase flavor without adding calories by adding spices or fresh herbs.
---
8
Weight Loss Smoothie Add-Ins
If you haven't added any of these ingredients already, try adding one to your smoothie:
Green tea. This makes a great low-calorie liquid base for any smoothie and has the extra benefit of being chock full of antioxidants and other healthy plant compounds.

While more research is needed, studies suggest that antioxidants called catechins in green tea can trigger the release of fat from your cells, boost fat burning (particularly during exercise), elevate metabolism, and may help reduce belly fat.
What are your favorite weight loss smoothie ingredients? Did we miss anything? Do you use smoothies to help you lose weight? Let us know!
Read more: How to make a smoothie