The most versatile of all the different types of popsicles, creamy ice pops can be anything you want. If you're looking for a cool, comforting, and refreshing treat that's easy to make and customizable to your preferences, look no further than these creamy popsicles.
These ice pops are made with simple ingredients that you can mix and match to make your own special creation. Whether you want something fruity, nutty, chocolatey, or coffee-infused, with this creamy popsicle recipe you can whip up it up in no time.
Creamy Popsicles Ingredients
The base recipe for these popsicles is just dairy, sugar or honey, and a pinch of sea salt:
Dairy. You can use any kind of dairy you like, such as milk, cream, yogurt, or even non-dairy alternatives.
Sweetener. You can also adjust the sweetness to your liking.
Sea salt. The sea salt helps to balance the flavors and enhance the creaminess.
Once you have the base recipe, you can add any flavorings or toppings you want, optional add-ins include:
Infusion. Infuse the dairy mixture with tea, spices, herbs, or coffee for a subtle and aromatic flavor.
Creamy add-ins. Blend in nut butter, Nutella, banana, or avocado for a rich and smooth texture.
Add crunch. Stir in chopped nuts, fruits, coconut, cookies, chocolate chips, or cooked grains for a crunchy and chewy bite.
You can add all three optional add-ins (just add them in the order shown), or just one or two. The possibilities are endless!
The best part is that these popsicles are super easy to make. You can make a big batch and store them in the freezer for up to a month. They're perfect for snacking, dessert, or even breakfast!
Here's how to make creamy popsicles.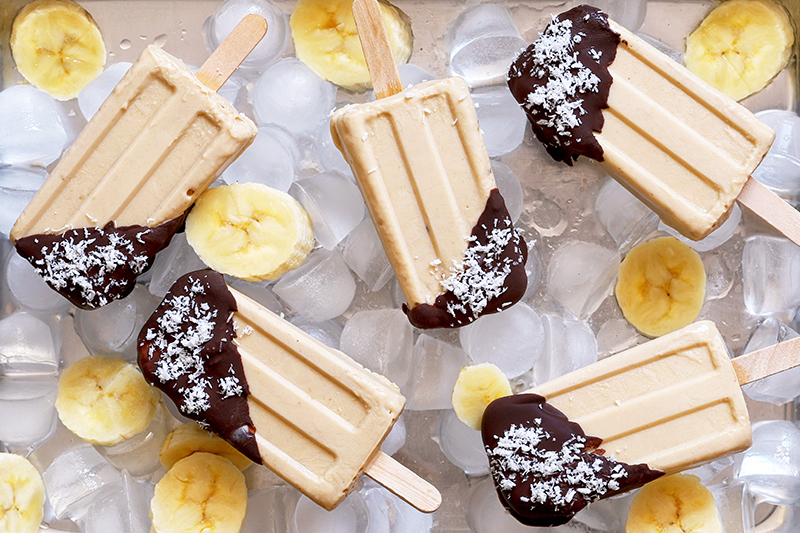 Creamy ice pops are delicious, velvety smooth and incredibly satisying. Plus, they are super versatile.
Print Recipe
Pin Recipe
Ingredients
2-3

cups

dairy

(depending on amount of add-ins)

¼ − ½

cup

sugar or honey

(sweeten to taste)

Pinch

of sea salt
Instructions
Combine sugar, dairy, and sea salt. Then proceed according to the add-ins you want (each step is optional):

Infuse dairy mixture:Tea, spices or herbs. Brink milk or cream to a simmer, remove from heat and steep in flavorings you want to add (e.g. mint, ginger, vanilla pod, cinnamon stick, lemongrass) for 30 minutes. Strain out the solids with a fine sieve. Coffee. Brew 1-2 cups of strong coffee. Add to creamy mixture (use only 2 cups dairy).Corn. Cut corn kernels off cob, place both in saucepan with milk. Heat milk over medium heat until milk starts to bubble. Reduce heat and let simmer for about 20 minutes. Remove from heat, allow to cool. Then, remove the cobs. Place in blender with dairy mixture, and blend until smooth. 

Creamy add-ins: Nut butter, Nutella, banana, or avocado. Blend with dairy mixture until smooth.

Chunky add-ins: This is the final step. Once you've finished making your dairy mixture, stir in finely chopped nuts, chopped fresh or dried fruit, shredded coconut, crushed cookies, chocolate chips, or cooked grains (e.g. starchy arborio rice).

Allow mixture to cool before pouring into ice pop molds. Freeze for at least 6 hours.
What are you waiting for? Grab your ingredients and start making your own creamy popsicles right now! You'll be amazed by how delicious and satisfying they are. And don't forget to share your creations with us in the comments below or on Instagram! We'd love to see what you come up with! 😊