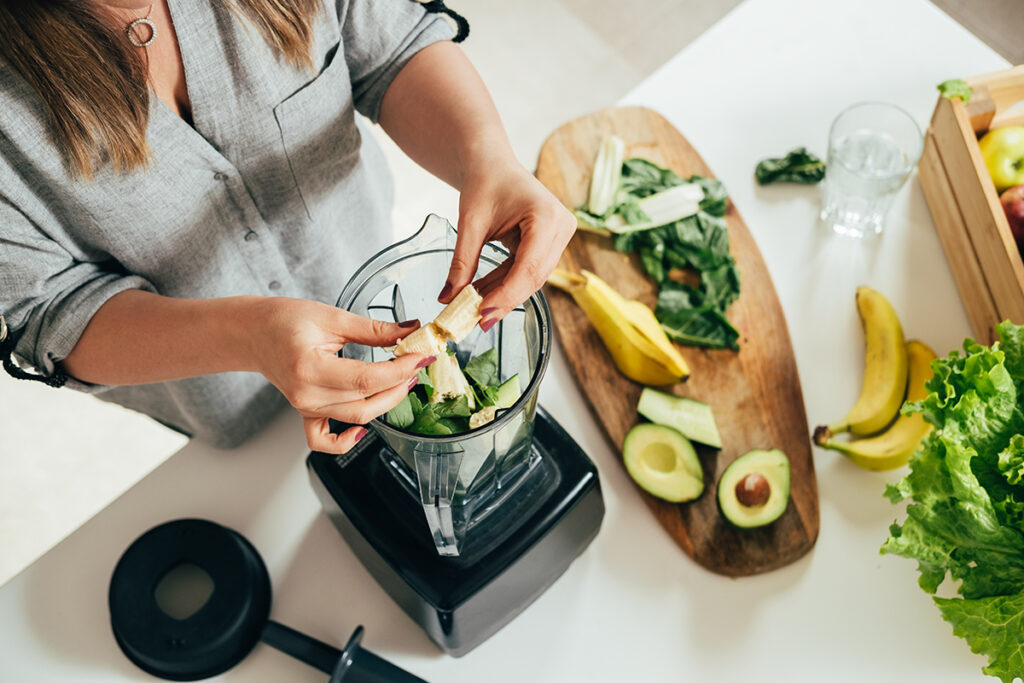 Behold, the smoothie. A meal in a glass. And not just any meal. A meal anyone can make, no matter how culinary challenged or bound by time constraints. And done right, smoothies are packed with vitamins, minerals, antioxidants, protein, healthy fats and so much more. Not only nutritious, but super delicious. That combination doesn't come round too often.
So, without further ado, here's your go-to guide on how to make a smoothie – awesome! But first, the all important basic smoothie formula to make a perfect smoothie every time.
2 cups fruit (or a mix of fruit and vegetables)
½ cup milk or juice
¼ cup yogurt
1-2 teaspoons sweetener (optional)
Optional add-ins to increase flavor (spices) or boost nutritional content (nuts, seeds, protein powders)
This smoothie formula in infinitely adaptable to suit your needs and tastes. Use this formula to make a meal replacement shake (e.g. breakfast), a post-workout drink, snack, or healthy dessert. Use smoothies as a way to get your daily dose of fruit and veg, to lose weight, build muscle, or gain weight. Adapt smoothies anyway you want – the only thing holding you back is your imagination. There's so much more to smoothies than fruit, yogurt and ice.
How to Make a Smoothie
All it takes are 6 simple steps to make a smoothie:
Add soft ingredients (like yogurt)
You can store a fresh smoothie for up to a day in the fridge if you need to. However, if you can, drink your smoothie as soon as you've made it. It's fresh, will taste absolutely perfect, and you'll also derive the maximum nutritional benefit.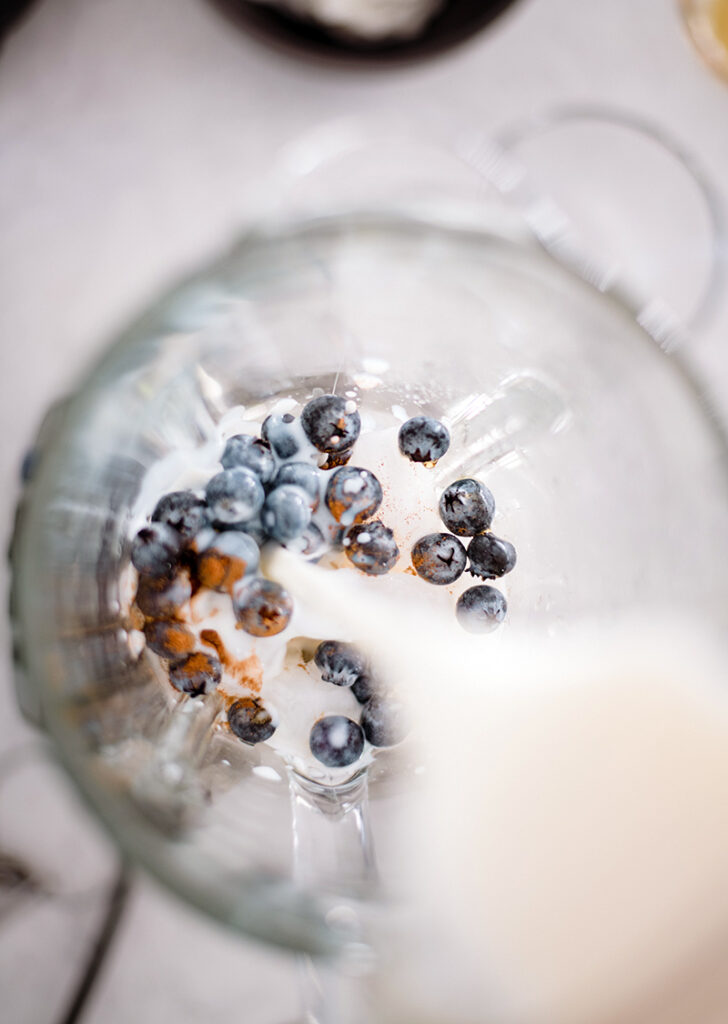 Start by adding about ½ cup of liquid to the blender. The best liquids to add to smoothies include:
Milk is a classic smoothie base, as it helps to mellow bitter flavors and adds creaminess. Milk that works well in smoothies include cows milk, almond milk, oat milk, soy milk, and coconut milk. Choose milk, soy milk, or pea milk for a higher protein content.
Fruit juice. Fruit juice based smoothies are fresh, summery, and a bit more icy. Their natural sweetness and acidity help to bring out the smoothie's fruity flavors. Juices that work well include orange juice, apple juice, grape juice, and pomegranate juice.
Other liquids. Coconut water is rich in minerals, hydrating, and adds natural sweetness. Other liquids include iced coffee, tea (green tea, black tea, fruit, or herb), and water.
If your smoothie is too thick you can always add more liquid later. Exactly how much liquid you need depends on the type of fruit you're using. For dense fruit, such as bananas and mangos for example, you need more liquid. Watermelon, on the other hand, produces a lot of juice, so you'll need less liquid.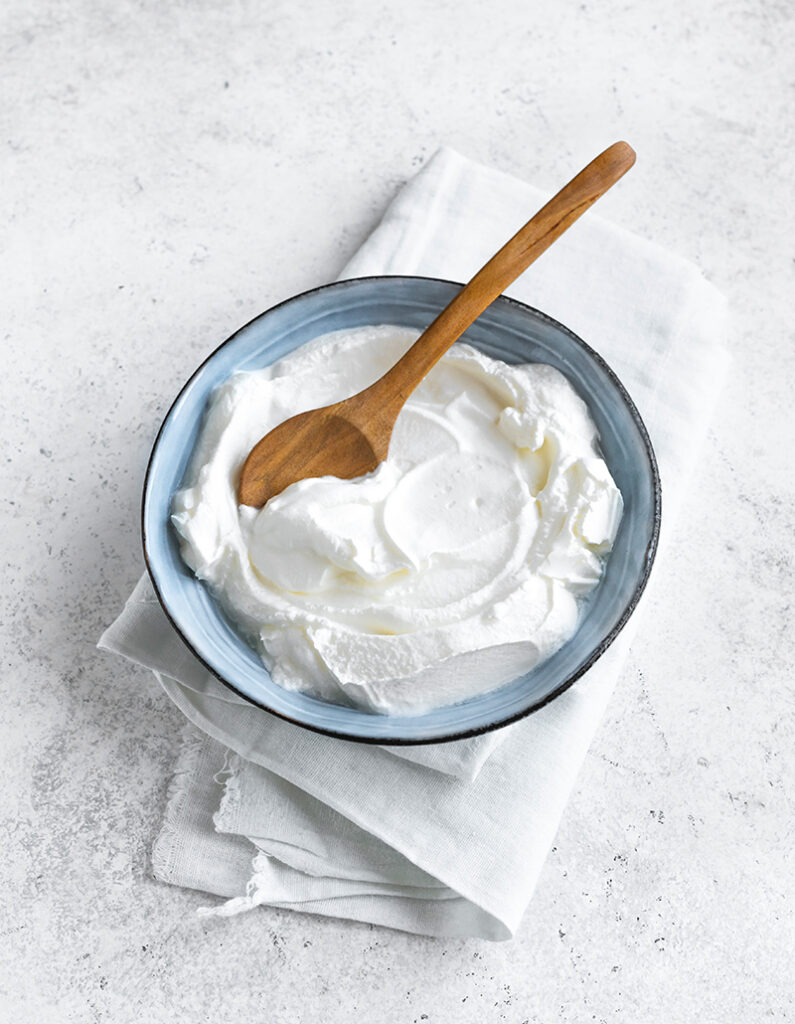 Smoothies are all about balance. Balance of flavor, balance of texture. The consistency of your smoothie is almost as important as taste. Too runny and it's not really a smoothie, too thick and you'll need a spoon.
Adding yogurt (or one of the alternatives below) will give your smoothie body, texture and creaminess, and balance out any acidic taste from fruits such as oranges and berries. But it's also an opportunity to boost the nutritional content of your smoothie and make your smoothie more filling.
While yogurt is the easiest way to thicken your smoothie, there are some other options too. The best ingredients to thicken a smoothie and make it creamy are:
Yogurt. Greek yogurt works particularly well, as it is creamy, very thick, and high in protein. Alternatively try silken tofu, cottage cheese, frozen yogurt, or ice cream.
Nut butter, nuts or seeds will make your smoothie thicker and smoother, add a lovely flavor, and are a powerhouse of nutrients. They are rich in protein, fiber, and essential fatty acids. Preferably use natural & unsweetened nut butters.
Oats
Beans. Beans have a smooth, creamy texture and mild flavor that is easily masked, making them a great option. They are packed with protein and fiber, helping to keep you full for longer. For fruit, vanilla or other light-colored smoothies use white beans or chickpeas. For chocolate or dark smoothies use black beans.
You only need to add one of the above ingredients to thicken your smoothie – unless you're choosing it to add flavor or make it more nutritious. If you're adding a lot of ingredients, remember to keep an eye on the calorie-content.
Thickening your smoothie is especially important if you're working with watery fruit such as watermelon or pineapple, or haven't used thick, balancing fruits such as avocado and banana.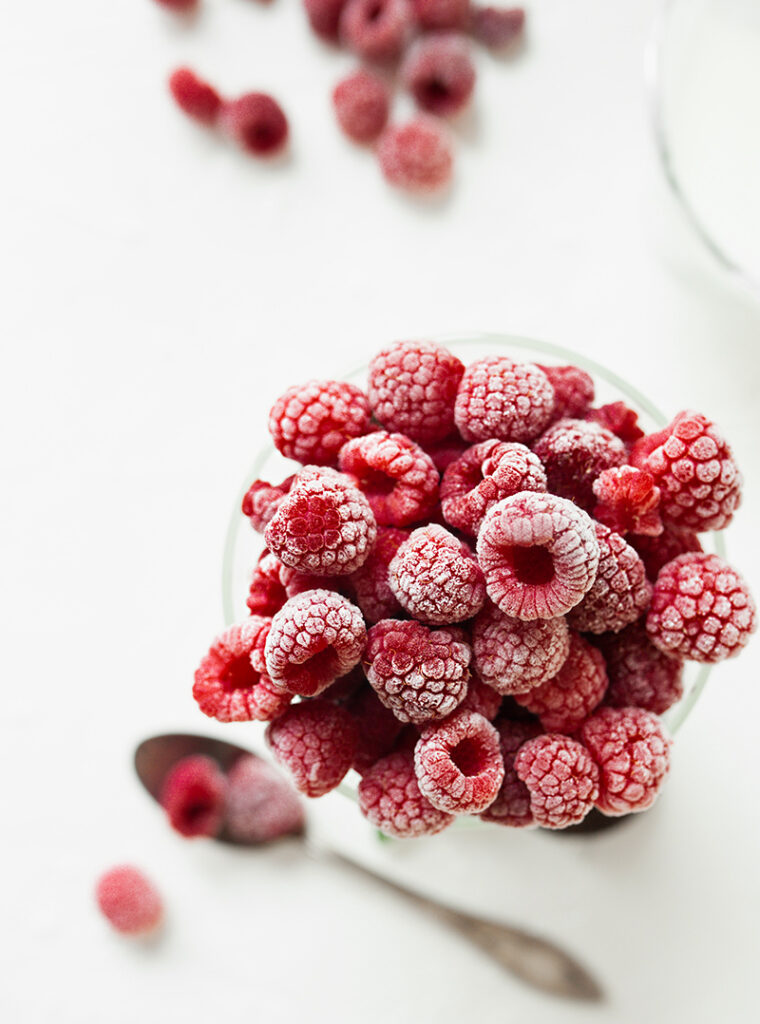 Use fresh or frozen fruits to make your smoothie – or a combination. The advantage of using some frozen fruit in your smoothie is that it scores high in terms of taste. Because you don't need ice, you can achieve a more intense, richer flavor and yield a creamier smoothie.
Out of season, frozen fruits are a good choice, as they're picked at the peak of ripeness and immediately frozen, sealing in the vitamins and minerals for maximum nutrition and maintaining textural integrity.
Plus, frozen fruits are incredibly convenient. It's easy to buy a pack of frozen fruit or freeze overripe fruit such as bananas. You can also buy fresh fruit in bulk when in season (especially when on sale), peel, cut, place in freezer bags and freeze.
The best fruits to add to smoothies:
Creamy fruit, such as banana or avocado.
Berries.
Tropical fruit, such as mango, kiwi, and pineapple.
Stone fruit, such as cherries and peaches.
Smoothies are also a great opportunity to get some greens into your diet without actually tasting them. The fruit in smoothies mask most of the flavor of the vegetables, so it'll still taste like a fruit smoothie.
The best vegetables to add to smoothies:
Leafy greens. Spinach is one of the most popular greens added to smoothies because it has a mild flavor (its taste is masked by fruit) and is easy to blend. Other mild greens include romaine lettuce and bok choy. Adding a few greens will give the nutritional content of your smoothie a huge boost.
Cooked/ pureed vegetables, such as sweet potatoes, pumpkin, or butternut squash. Allow cooked vegetables to cool before adding.
Mild, robust vegetables like carrots, beets, and cauliflower. These need to be cut into roughly 1-inch pieces, or smaller, to make it easier to process.
If you're new to making smoothies, stick to veggies that are naturally sweet (e.g. carrot, pumpkin) or those with mild flavors.
Step 4
Add Sweetener & Flavor Boosters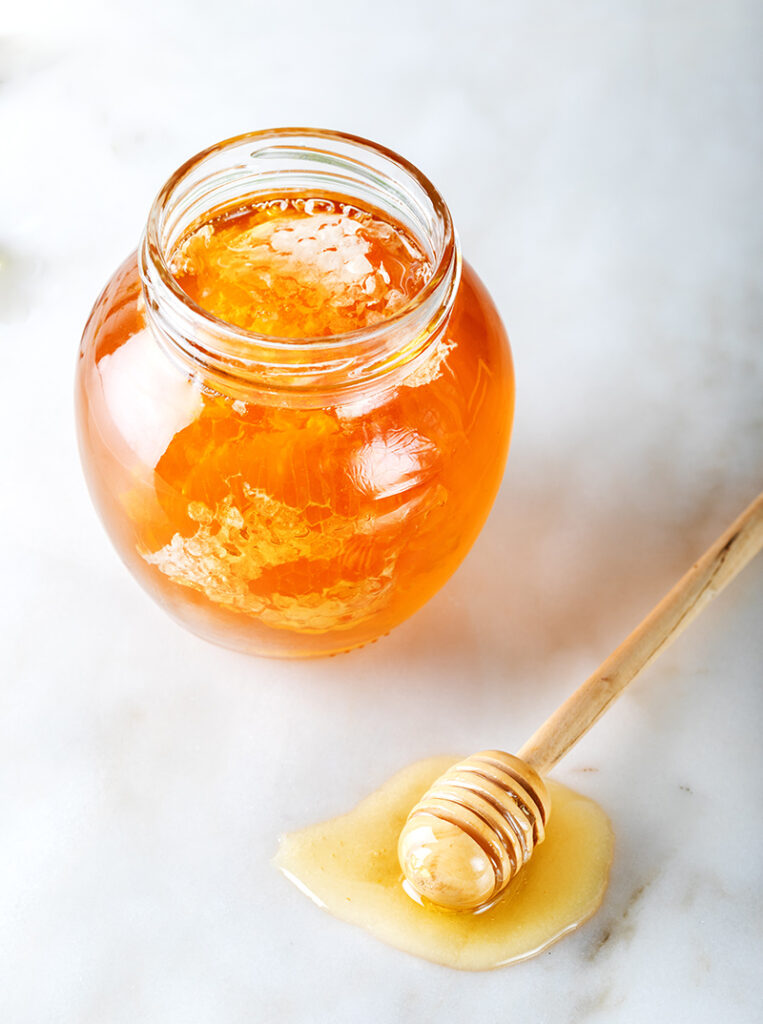 Ideally, the smoothie's sweetness should come from fruit. If you're using sweet and ripe fruits such as banana and mango, you should need little sweetener.
If you do need to sweeten your smoothie, liquid sweetener works best because it blends into the smoothie seamlessly.
The best sweeteners to add to smoothies:
Honey
Maple syrup
Agave nectar
Liquid stevia or xylitol
Dates or figs
Remember the natural sweetness of the smoothie will vary each time, depending on the ripeness and sweetness of the fruit. So start with 1 teaspoon of sweetener, blend, then taste. Add more, if needed.
Add flavor boosters to bring out the flavor of your smoothie and give it more depth – this is where you take really good smoothie and make it special. The best flavor boosters are:
Spices or extracts (e.g. cinnamon, vanilla extract, almond extract, nutmeg, allspice, ginger, cardamon, turmeric, and cayenne pepper).
A pinch of salt. Just as any meal, a little salt or a splash of lemon/ lime juice (for smoothies without dairy) can enhance the taste of your smoothie.
Cocoa powder
The bonus of adding a flavor booster is that it adds practically no extra calories. Plus, it may help you cut down on the sweetener and therefore calories. A win-win.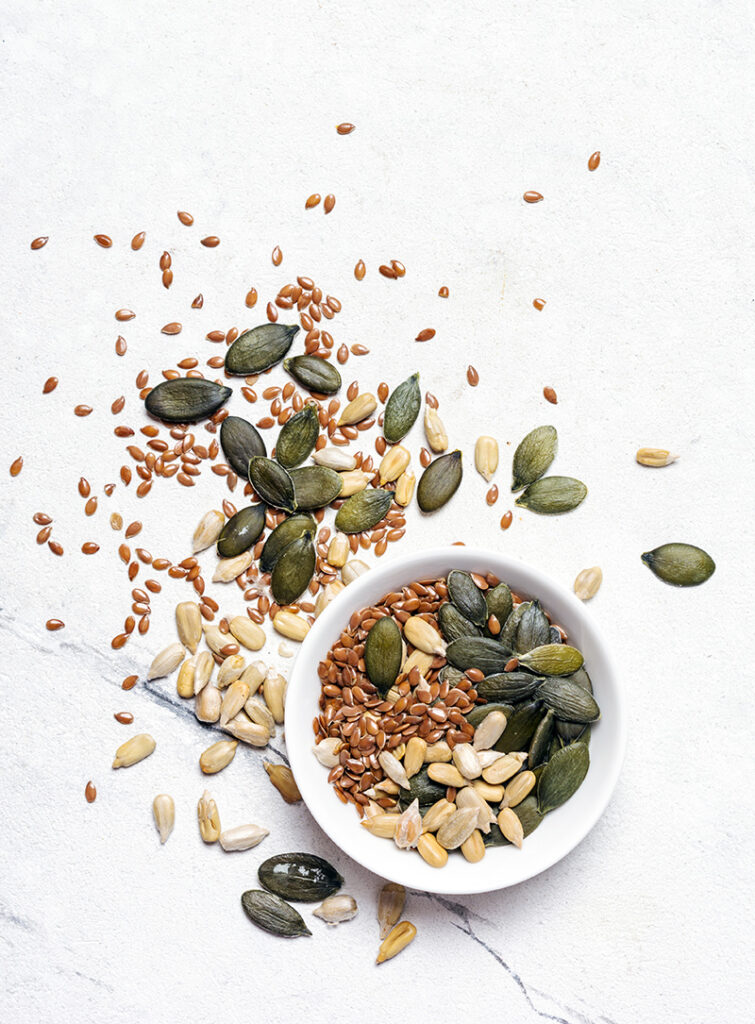 How do you make a smoothie super healthy? Easy. With highly nutritious add-ins. This is where you take your smoothie to the next level in terms of nutrition. There are a plethora of foods you can add to smoothies to give it that extra nutritional boost.
The best health-boosting add-ins for smoothies are:
Healthy fats. If the ingredients you've added so far are low in fat, adding a little healthy fat will help you absorb more nutrients, make the smoothie more satisfying, and keep you feel fuller for longer. Add 1 tablespoon of nuts or seeds, or ½-1 tablespoon of healthy oil (e.g. coconut oil, flaxseed oil, fish oil) or nut butter. Alternatively add a little avocado, which is full of healthy fat and will also make your smoothie creamy.
Protein powder. If the ingredients you've added so far are low in protein, add a scoop of your favorite protein powder. Protein is important if you're using the smoothie as a meal replacement shake or as a post-exercise snack. Protein takes longer to digest, stabilizes blood sugar, helps you feel fuller, and keeps hunger at bay. Like fats, protein transforms your smoothie from a snack into more of a meal. If you want to avoid protein powder, add a little Greek yogurt, silken tofu, or beans instead.
Wheat germ
Powdered foods (e.g. green powder, spirulina, chlorella, wheatgrass, maca, acai, bee pollen)
Nutritional supplements (e.g powdered probiotics)
Fresh sprouts
Did we miss your favorite ingredient or do you have a favorite smoothie recipe? Leave a comment and let us know!
And to sum it all up, here's an infographic on how to make a smoothie awesome!
---

Smoothie Recipes
Now that you've got the hang of how to make a smoothie, try some of these delicious recipes:
Don't stress when making smoothies. Learning how to make smoothies should be fun, experimental and stress-free. The more you experiment, the more you'll find out what you really like. If you come up with some tasty and interesting concoctions, let us know in the comments below!
This basic smoothie formula shows you how to make a smoothie that is thick, creamy, and super delicious every time!
Print Recipe
Pin Recipe
Ingredients
2

cups

fruit

(fresh or frozen)

½

cup

milk

(or juice, coconut water, tea)

¼

cup

yogurt

(or kefir, cottage cheese)

1-2

tsp

honey

(or maple syrup, agave nectar)

Optional add-ins: nuts, seeds, spices, protein powder
Instructions
Add liquid to the blender, then add the yogurt, fruit, sweetener, and finally the optional add-ins.