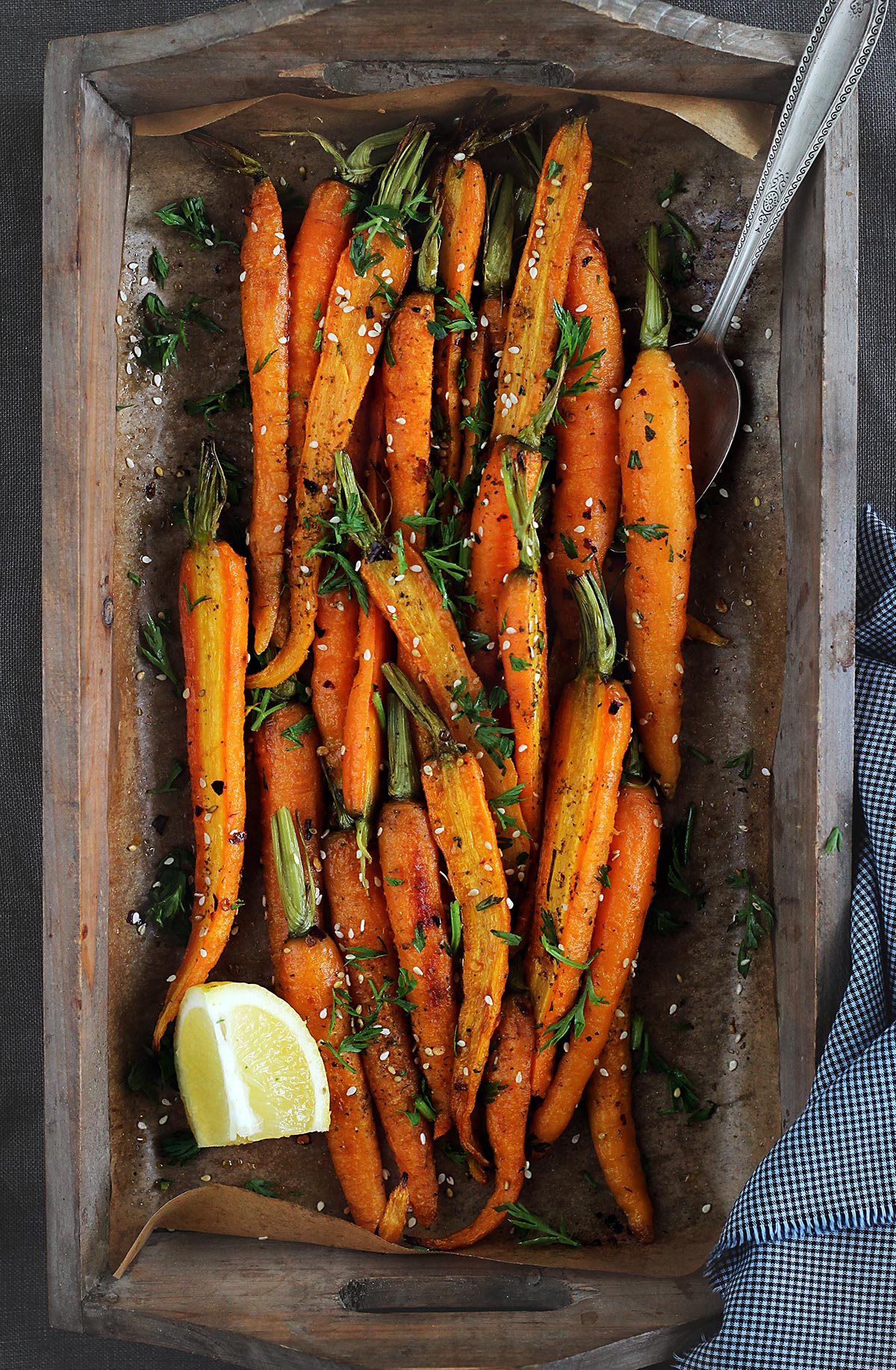 Busy weeknight or festive occasion. Whatever the reason or the season, roasted carrots make for a wonderful sweet and colorful side dish. Like sweet potatoes and squash, roasting deepens their flavor and draws out their natural sugars. In other words, roasting makes carrots taste so much better.
How to Roast Carrots
High heat can leave carrots a dry, shriveled, and sad shadow of their former selves. We solve this by covering the carrots with aluminum foil for the first 15 minutes in the oven. This steams the carrots and allows them to stay moist, instead of drying out.
Then remove the foil and place back in the oven for 15 to 30 minutes uncovered, until fork-tender and golden-brown. Roasting the carrots uncovered exposes the carrots to the high, dry heat, which lets the moisture in the carrots evaporate and allows the carrots to caramelize. The result? Sweet, tender, perfectly textured carrots.
Roasting time will vary a little depending on the size and type of carrots.
The seasoning. It's easy to switch up the flavors. Same steps, just different seasoning. In addition to the base ingredients of olive oil (or melted butter), salt, and pepper, it's super simple to just throw in some extra add-ins to change up the entire flavor profile of this dish.
Be transported from the fresh flavors of the Mediterranean (herbs) to the warming, rich notes of North Africa (Harissa) and the Middle East (Za'atar). Or invoke the festive flavors of Thanksgiving and Christmas with honey-glazed carrots. All without having to change the cooking process.
The carrots. Go for regular carrots, baby carrots, or opt for a visual feast of rainbow carrots. Just make sure to keep the size uniform to ensure even cooking. Use whole carrots or cut them into sticks or halves. For perfectly roasted carrots aim for 1/2 to 1-inch in width.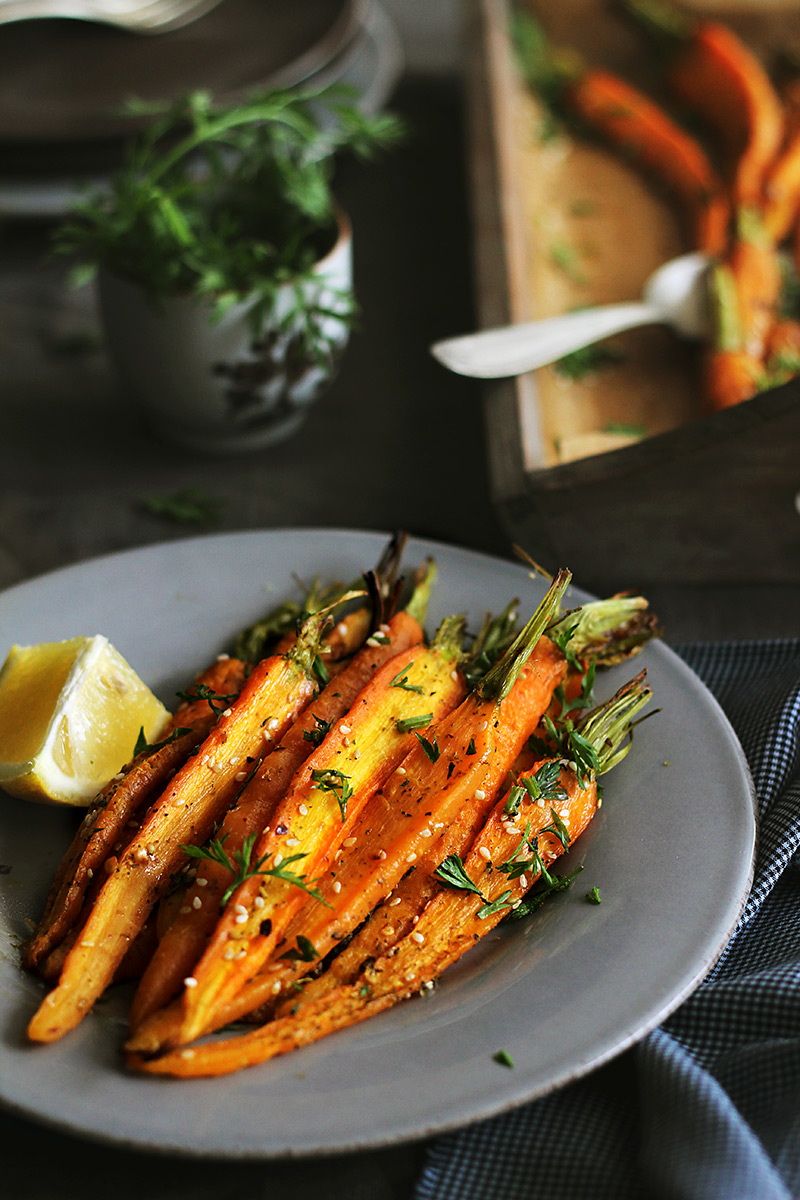 Easy, versatile, and above all tasty. Here's how to make roasted carrots – 5 ways.
Print Recipe
Pin Recipe
Ingredients
Basic Roasted Carrots (Base recipe)
2

lbs

carrots

peeled

3

tbsp

extra-virgin olive oil

or melted butter

½

tsp

Salt

to taste

½

tsp

Freshly ground black pepper

to taste

2-3

tbs

freshly chopped parsley

garnish
Honey roasted carrots
3

tbs

honey

maple syrup or brown sugar

¼

tsp

cayenne pepper

optional, for sweet spicy flavor
Roasted carrots with herbs
2

tsp

fresh thyme

minced, or half the amount of dried thyme

½

tsp

oregano

1

tsp

honey

optional, to bring out the carrots' sweetness
Harissa roasted carrots
1

tbsp

harissa paste

2

tbsp

pure maple syrup

2

garlic cloves

minced

¼

tsp

ground cumin
Za'atar roasted carrots
1

tbsp

za'atar

1

pinch

ground cumin

1

tbsp

fresh lemon juice

garnish, to drizzle over roasted carrots
Instructions
Preheat the oven at 425ºF/ 218°C. Remove the greens from the carrots. (For a prettier presentation, keep 1 inch of the carrot tops.) Wash carrots in plenty of water, peel and cut in halves lenghtwise.

Place salt, pepper, olive oil, additional seasonings if using, and carrots in a large bowl. Toss well to coat.

Line a large baking sheet with foil. Transfer the seasoned carrots to the baking sheet, spread evenly, and arrange in a single layer.

Place tray in the oven, cover with foil and roast for 15 minutes. Remove foil, bake another 15 to 30 minutes, until tender and slightly caramelized.

Remove carrots from the oven, place on a serving platter. Add the parsely or other garnishes. Taste, if needed, add salt and pepper.