There's nothing quite like pancakes first thing in the morning. They're the hero of any breakfast table. But what if you want healthy pancakes that are just as delicious, thick, and fluffy as regular pancakes? Weekend treat or weekday morning rush, these healthy pancakes will become your go-to recipe.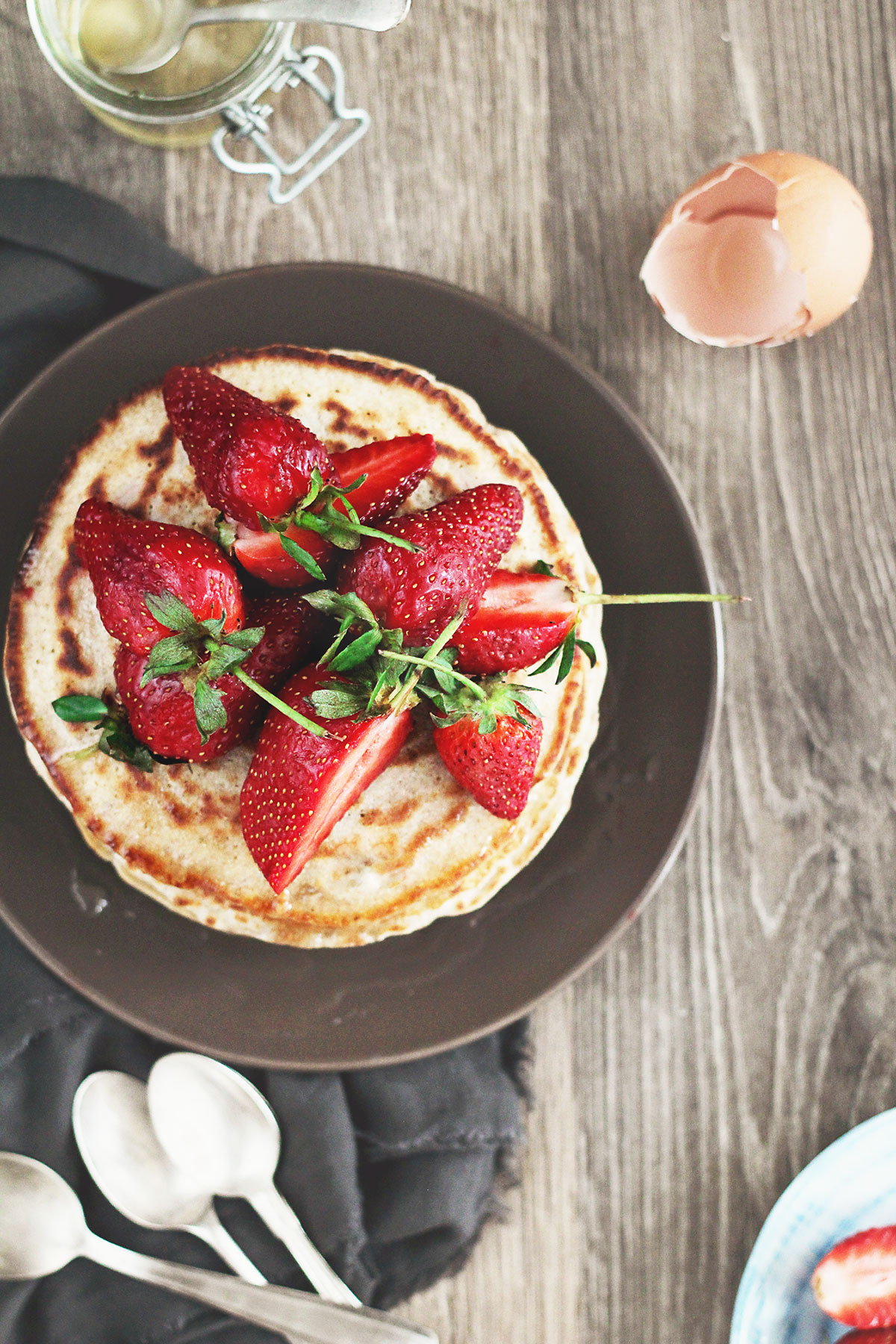 The texture of these pancakes is thick and fluffy, and the flavor richer and more complex than ordinary pancakes. They're also very satisfying, keep you fuller for longer, and boast more nutrients than your regular (boring) white-flour pancakes.
Healthy pancakes might seem like an oxymoron. But here's how to have your pancake and eat it to. Yes, pancakes that are healthy and perfectly delicious.
Healthy Pancake Ingredients
Flour: This pancake recipe calls for whole-wheat flour, all-purpose flour, cornmeal, and rolled oats. But if you don't have all the different types of flour and grains to hand, simply substitute it with what you've got. The recipe is very flexibile.
Dairy: You can use buttermilk or regular yogurt. Avoid Greek yogurt. In a pinch you can make your own buttermilk by adding one tablespoon of lemon juice or vinegar per 1 cup of whole milk or cream.
Spices: Add cinnamon and a little nutmeg for extra flavor. If you prefer, add a dash of vanilla extract.
Sweetener: Use maple syrup or honey to sweeten these pancakes. Alternatively use sugar, but remember to add it to the mixture of dry ingredients.
Add-ins: Add nutrient-dense toppings like blueberries, chopped fruit, slices of banana, or even chocolate chips. Simply sprinkle on top of pancakes just before flipping over to cook other side.
If you have time, allow the batter rest for 5 to 10 minutes. This will help the flour and grains to absorb more moisture and soften, making the pancakes lighter, fluffier, and more tender.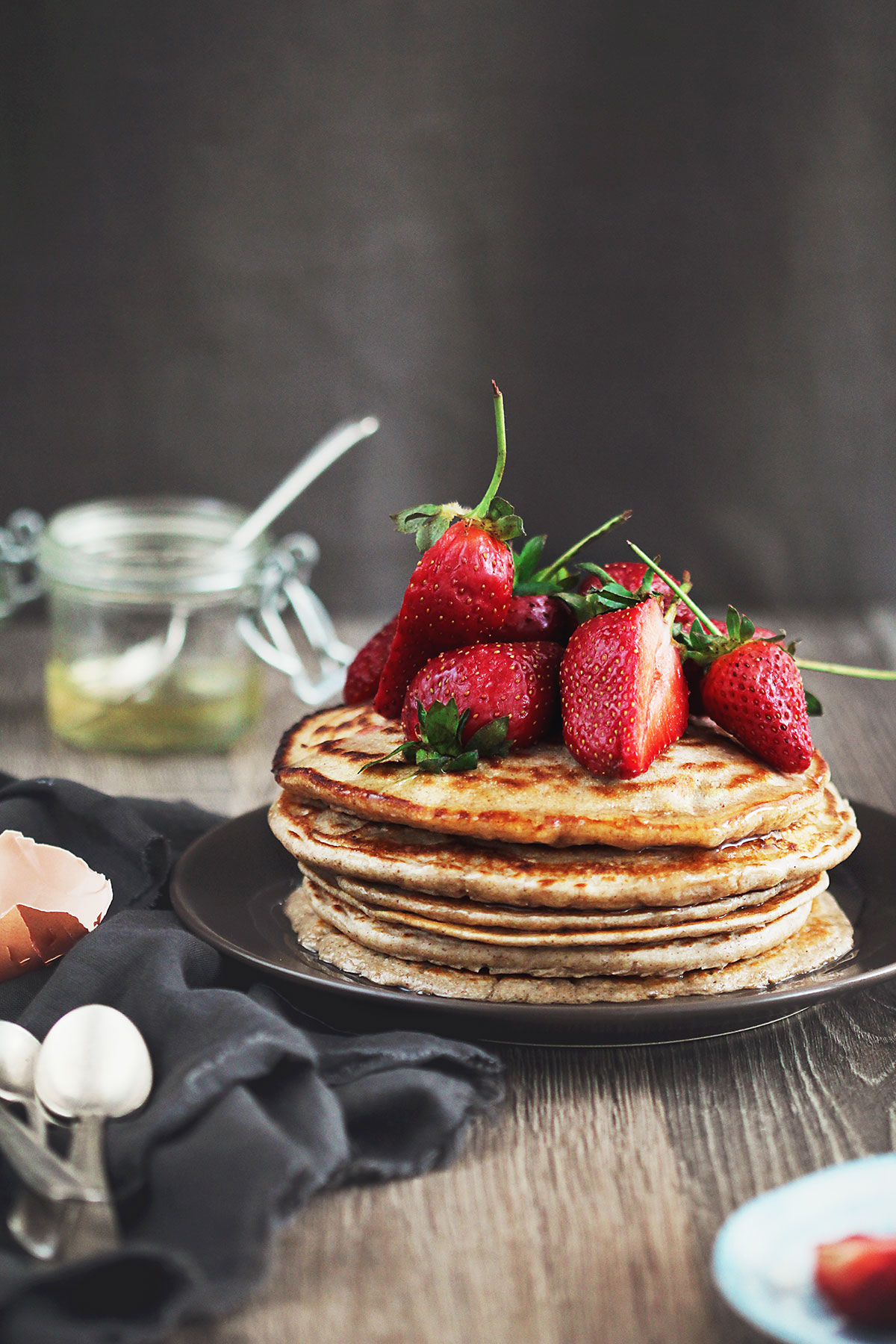 These healthy pancakes are thick, fluffy and perfectly delicious. Packed with nutrients, here's how to have your pancake and eat it too.
Print Recipe
Pin Recipe
Ingredients
¾

cup

all-purpose flour

1

cup

whole-wheat flour

¼

cup

rolled oats

(or other rolled grains)

⅓

cup

cornmeal

2

tsp

baking powder

½

tsp

baking soda

½

tsp

ground cinnamon

1

pinch

ground nutmeg

1

tsp

salt

2

cups

plain yogurt or buttermilk

3

large eggs

4

tbsp

unsalted butter

melted

1

tbsp

honey or maple syrup
Instructions
Mix the dry ingredients (flour, cornmeal, oats, baking powder, baking soda, spices, and salt) in a large bowl. In another bowl, whisk together all the wet ingredients (eggs, buttermilk, melted butter and honey) until well combined. Pour the liquid mixture over the dry ingredients, and mix until just combined (do not overbeat). If the mixture is too thick, add a little more liquid for desired consistency.

Heat a large cast-iron skillet or griddle over medium heat. Lightly grease skillet or griddle with a little butter or coconut oil.

Pour about 1/4 cup of batter into the skillet and cook until air bubbles start forming on the surface – about 2-3 minutes. (Sprinkle pancake with chopped fruit, if using). Gently flip pancake and cook for 2-3 minutes on the other side, until golden brown.

Transfer pancake to a plate or place in the oven to keep warm. Repeat the process with the remaining batter, adding a little oil or butter when needed.

Serve with maple syrup, fresh strawberries, or preferred toppings.