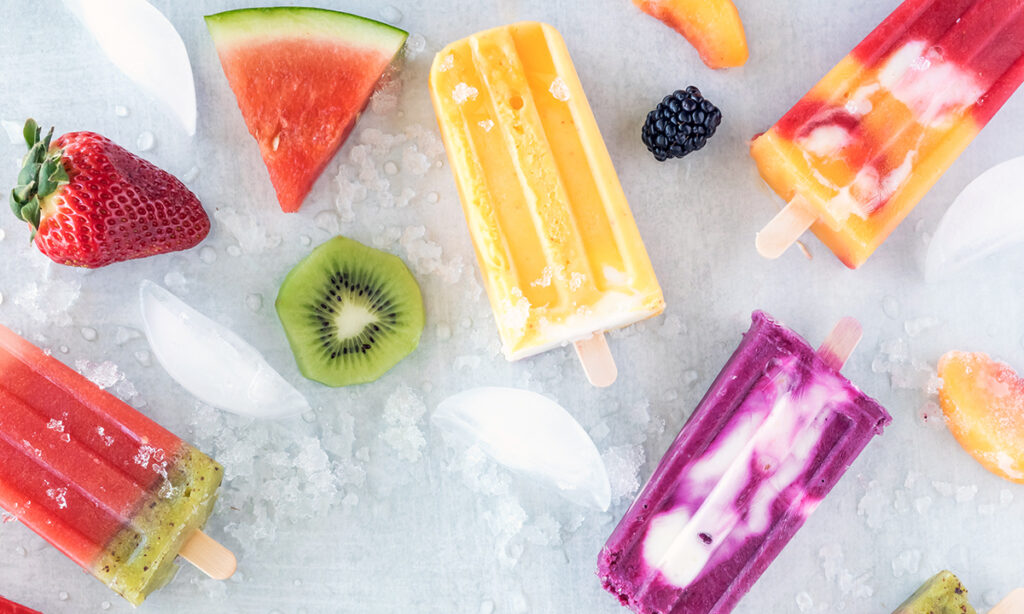 Cool, refreshing, and super tasty. A summertime delight. Be you toddler, child, or fully-grown human. There's an ice pop for you.
Rich and chocolaty. Fresh and fruity. Creamy and comforting. Make it stripy, swirly, one flavor or five. Healthy treat, delicious dessert, or ice cold snack. Make it whatever you want.
The variety of flavors and textures of ice pops are endless. But the basic formula isn't… Here's how to make every type of ice pop.
These base recipes make about 8 ice pops. Freeze for at least 6 – 8 hours.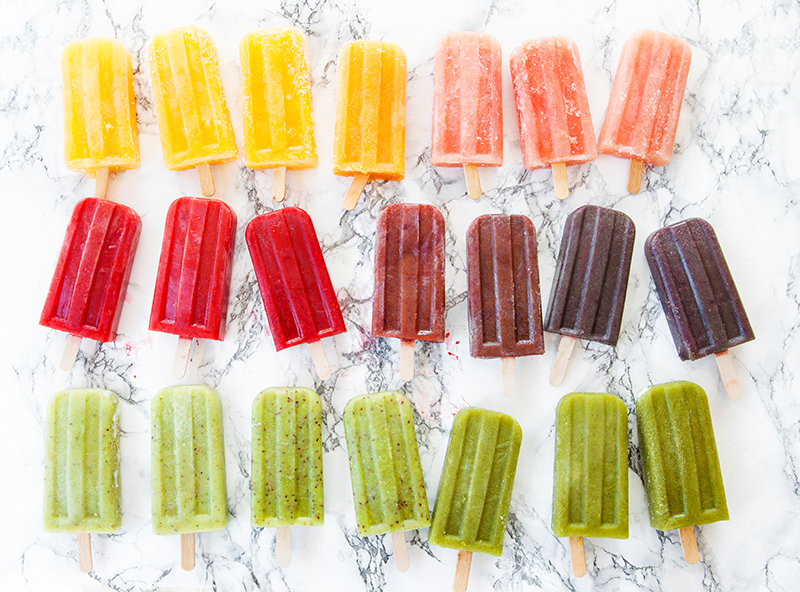 A classic and purists delight. Fresh, ripe, seasonal fruit, blended to create a refreshing and cooling sorbet-like base.
Print Recipe
Pin Recipe
Ingredients
3

cups

fruit

¼

cup

liquid

(juice, tea, or water)

2

tablespoons

honey

(or preferred sweetener)

1-2

tablespoons

lemon juice
Instructions
Place ingredients in blender. Add more liquid if needed – enough to help the mixture blend.

Blend ingredients until smooth, or desired consistency.

Pour into mold, add fruit chunks if desired.

Freeze, 8 hours or more.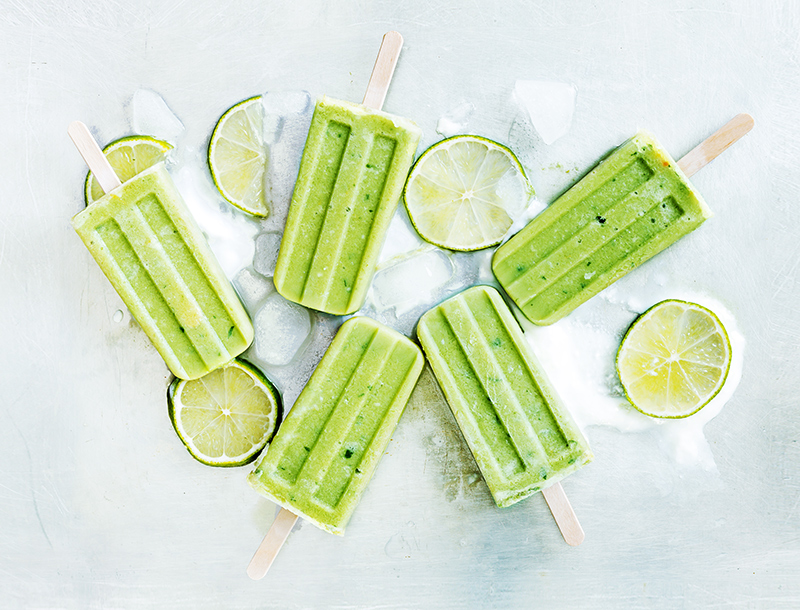 The best of both worlds. Fresh and fruity. Creamy and comforting. No need to choose.
Print Recipe
Pin Recipe
Ingredients
1

cup

dairy

(e.g. yogurt, milk, coconut milk)

2

cup

fruit

2-4

tbsp

honey

(or preferred sweetener)

½ – 1

tsp

lemon juice

½

tsp

vanilla extract

(optional)

Pinch

salt
Instructions
Place ingredients in a blender, and process until smooth.

Pour into mold. Insert ice pop sticks and freeze for at least 5 hours. Add chunks of fresh fruit, if desired.
Tip
To intensify the fruit flavors, briefly cook fruit first with the lemon juice and honey (or preferred sweetener) for about 5 minutes to make a fruit compote.
Ice Pops with Whole Fruit (Fruit Salad)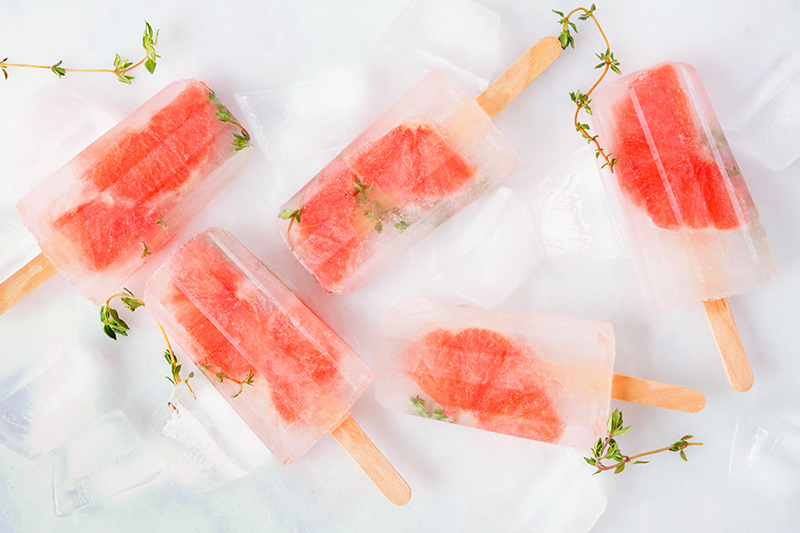 Literally packed with whole foods, these popsicles are a delcious and uber-healthy treat.
Print Recipe
Pin Recipe
Ingredients
2-3

cup

fruit

(sliced or whole small berries)

2

cups

liquid

(juice, water, tea, or lemonade)
Instructions
Cut larger fruits into ¼ inch slices.

Pack fruit into the molds. Press and line the sides and bottom of the mold with sliced fruit. This adds structure and makes the ice pops pretty. It also allows you to insert the ice pop stick into the middle of the ice pop, between the layers.

Drop smaller fruit such as blueberries between larger pieces of fruit to fill the gaps. Use an ice pop stick or butter knife to gently nudge smaller pieces into gaps. Add as much fruit as you are able to fit into the mold.

Fill the molds with juice, tea, lemonade, or water. Insert an ice pop stick into the middle of each mold between the layers of fruit. Place in freezer for at least 6 hours.
Tip
If making an ice pop with less fruit, add some of the fruit and fill the mold about ¼ full (small fruit) to ½ full (larger slices of fruit) with liquid. Place in the freezer for about 30 minutes or until the layer has set. Then add more fruit and pour in the remaining liquid. 
Clear or slightly colored liquids look very pretty:
Coconut water
Grape juice
Apple juice
Cranberry juice
Fruit or herbal tea – cooled
Lemonade
If you're using not so sweet fruits (e.g. blue berries, grapefruit) fruits add sweeter liquid to balance the flavors. Or add sweeter fruits (e.g. melon, pineapple).
If you want to make ice pops with layers of different fruit, see instructions below.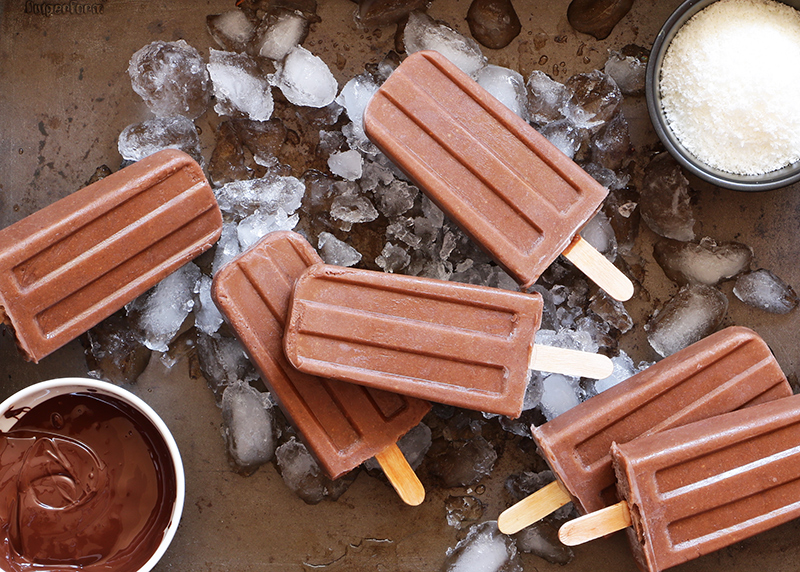 Deep rich, comforting chocolate. These ice pops are easy to make, but super luxurious. Pure and utter chocolate bliss.
Print Recipe
Pin Recipe
Ingredients
6

oz

dark chocolate

finely chopped

2

cups

milk

½

cup

heavy cream

(or coconut cream)

½

cup

sugar

(to taste)

2

tsp

vanilla extract

¼

tsp

sea salt
Instructions
Whisk together milk, cream & sugar in pan over medium heat. Bring to a simmer.

Remove from heat, stir in vanilla and chopped chocolate. Whisk until mixture is creamy and smooth.

Allow to cool. Pour into molds. Freeze at least 8 hours.
Or try these banana chocolate ice pops made with coco powder.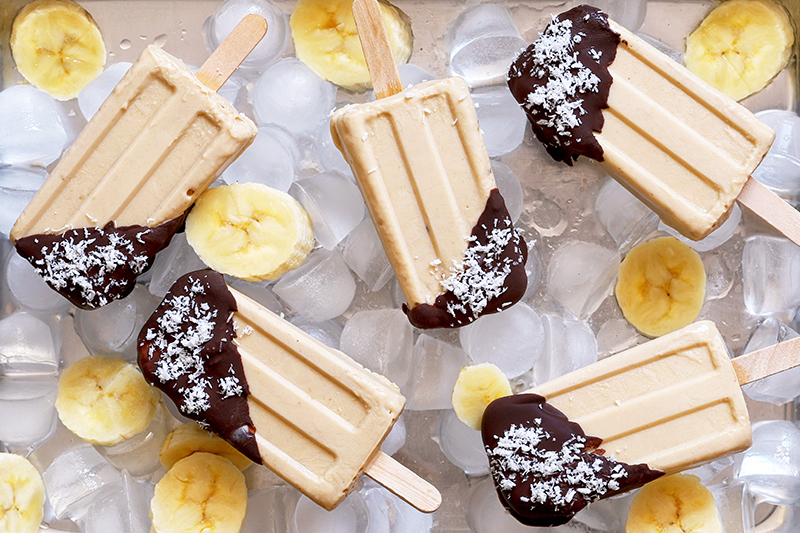 Creamy ice pops are delicious, velvety smooth and incredibly satisying. Plus, they are super versatile.
Print Recipe
Pin Recipe
Ingredients
2-3

cups

dairy

(depending on amount of add-ins)

¼ − ½

cup

sugar or honey

(sweeten to taste)

Pinch

of sea salt
Instructions
Combine sugar, dairy, and sea salt. Then proceed according to the add-ins you want (each step is optional):

Infuse dairy mixture:Tea, spices or herbs. Brink milk or cream to a simmer, remove from heat and steep in flavorings you want to add (e.g. mint, ginger, vanilla pod, cinnamon stick, lemongrass) for 30 minutes. Strain out the solids with a fine sieve. Coffee. Brew 1-2 cups of strong coffee. Add to creamy mixture (use only 2 cups dairy).Corn. Cut corn kernels off cob, place both in saucepan with milk. Heat milk over medium heat until milk starts to bubble. Reduce heat and let simmer for about 20 minutes. Remove from heat, allow to cool. Then, remove the cobs. Place in blender with dairy mixture, and blend until smooth. 

Creamy add-ins: Nut butter, Nutella, banana, or avocado. Blend with dairy mixture until smooth.

Chunky add-ins: This is the final step. Once you've finished making your dairy mixture, stir in finely chopped nuts, chopped fresh or dried fruit, shredded coconut, crushed cookies, chocolate chips, or cooked grains (e.g. starchy arborio rice).

Allow mixture to cool before pouring into ice pop molds. Freeze for at least 6 hours.
---
How to Combine Flavors
Why settle for one flavor, when you can have more? Combine fruity popsicles with creamy ones, like peaches & cream. Or keep the texture the same and just switch up the flavors. And then there are toppings. The combinations are endless…

Stripy Ice Pops
For separate and defined layers, freeze each layer until set. This will prevent one layer bleeding into the layer.
How to: Spoon one layer of mixture into mould, allow to freeze for 30 to 60 minutes, or until set. Repeat process. Alternate between flavors, or make each layer a different flavor.
---

Ice Pops with Toppings
Cover ice pops with crunchy toppings and if you want, chocolate too!
Chocolate Covered Ice Pops
Cut 7oz chocolate into small chunks and melt in a heatproof bowl over a pan of warm water. Stir in 2 tablespoons of coconut oil (or preferred vegetable oil), to stop the chocolate from cracking when frozen.
Chocolate drizzle. Lay ice pop on flat surface covered with parchment paper. Drizzle melted chocolate over ice pop.
Chocolate layer. Pour chocolate into a tall, narrow container, just wide enough to fit the ice pop. Allow chocolate to cool to room temperature. Dip ice pop into chocolate. Quickly sprinkle ice pop with chopped nuts or other topping, if adding, before chocolate sets.
The chocolate will firm fairly quickly. Once set, place ice pop on a tray lined with parchment paper. Return ice pops to freezer.
Crunchy Toppings
Once ice pop has frozen, brush with a little water or honey, then sprinkle with chopped nuts, granola, shredded coconut, or other topping.
---

Swirly Ice Pops
Spoon one layer into mold, then gently spoon next flavor on top. Repeat process, making about 3 to 5 layers.
Then very gently swirl layers together by moving a knife or a skewer up and down. Avoid over-mixing.
---
Ice Pop
Ingredients
Finally, an overview of ice pop's core ingredients. This is simply to explain how to make an ice pop come out perfectly each time. It's to aid flexibility and allow you to change any recipe on the fly. So you can adapt the base recipes to suit your diet, tastes, and the ingredients you have to hand.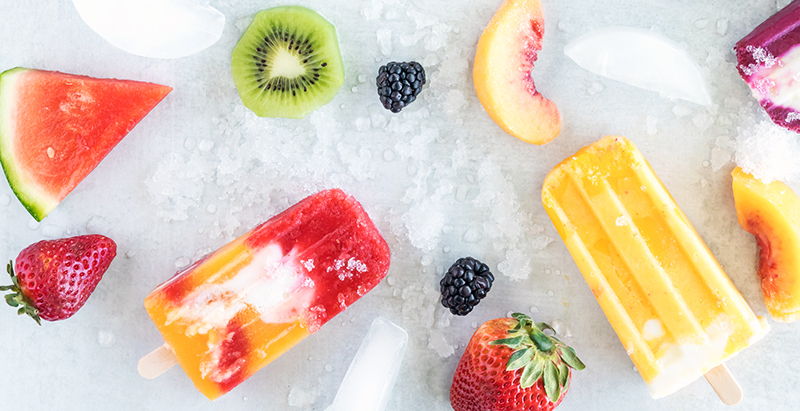 Go for ripe, preferably seasonal fruit to get full-bodied, bright fruity flavors. And, the sweeter the fruit, the less sweetener you need to add.
If you can, go for fresh fruit over frozen. Fresh, ripe fruit has a stronger, fruitier, more nuanced and well-rounded flavor than frozen fruit, and ice pops will tend to need less sweetener.
Super smooth. For extra smooth ice pops blend ingredients until smooth. Then strain mixture through a fine-mesh sieve to remove skin and seeds, and prevent mixture from separating.
Chunky. For a chunkier texture, blend the mixture for a shorter time so it is semi-puréed and maintains some texture.
With fruity bits. After pouring mixture into mold, add thin slices or chunks of fruit. To prevent fruit pieces from sinking to the bottom (not as much an issue with thicker, creamy ice pops), fill mold only a quarter full. Allow to freeze a little (30 minutes should be plenty), then add more pieces of fruit and pour rest of the mixture into the mold.
For an ice pop that is a little more avant-garde add some vegetables. Blend fruit with mild vegetables such as cucumbers and spinach, or cooked, sweet veggies (e.g. beetroot, carrot, corn, sweet potato).
Fruit Compote
You can make a simple fruit compote by cooking fruits such as berries and apricots concentrating the flavor. It's quick and super easy!
Combine the fruit, sugar, lemon juice, and salt in a pan, and cook over medium heat. Stir mixture until it becomes syrupy, about 5 minutes. If using frozen berries, add a few more minutes cooking time. Allow to cool, and simply follow the rest of the instructions for the ice pop you're making.
Good for: Ice pops that contain fruit and cream. The cream balances the intense flavor of the fruit. Try it in creamy fruit ice pops or swirly ice pops that combine fruit and cream (e.g. blueberry swirl).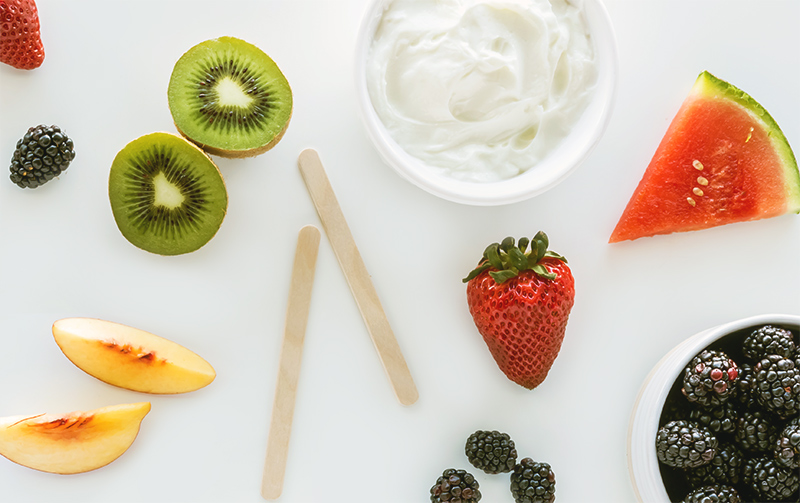 Add milk (including plant-based), yogurt, heavy cream, coconut cream, half-and-half, or condensed milk. For creamy ice pops use dairy with a higher fat content.
Whole Greek yogurt makes for very creamy ice pops, and is a healthier alternative to heavy cream. You can add a little heavy cream to Greek yogurt to make it even creamier, and round out the flavor. A ratio of about ¼ cup cream to ¾ cup yogurt, will suffice.
Coconut milk is also absolutely delicious, super creamy, and vegan too.
Combine lighter dairy such as milk or yogurt with heavy cream or coconut cream. Try a ratio of about 2 cups light dairy to 1 cup cream. Or switch it up, with 2 cups cream to 1 cup dairy for a super creamy ice pop.
Milk & Low-Fat Dairy
Milk (except coconut milk and evaporated milk) and low fat dairy contain more water, resulting in icier popsicles.
Thickeners: Banana, avocado or nut butter are great ingredients to add to ice pops made with milk, as they will make ice pops creamier.
You can also use cornstarch to thicken the mixture, though this will require an extra step at the stove.
Mix 1 – 2 tablespoons of cornstarch with a few tablespoons of milk in a saucepan to make a smooth paste. Whisk in remaining milk/ cream (and add other dry ingredients such as sugar, if using) and bring to simmer. Continue to whisk mixture and cook for two more minutes. Allow to cool, and continue to follow rest of ice pop recipe instructions.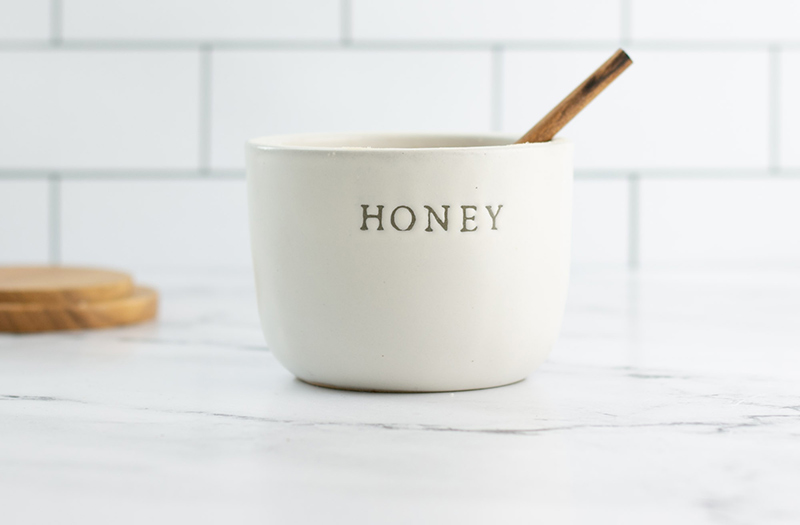 Sweetness plays a key role in making a good ice pop.
It sweetens and brings out the flavors of the fruit and other ingredients. This is important because freezing reduces the ice pop's flavor and sweetness.
Sweetener is crucial to the texture of the ice pop. It makes the ice pop smooth, creamy, and less icy.
Fruit popsicles don't need much sweetener (if any), as fruit already contains natural sugars. The sweetness of the fruit will vary with the type of the fruit and it's ripeness.
Liquid sweetener. Generally, use a liquid sweetener for ice pops. Runny sweeteners such as honey, agave nectar, and maple syrup mix perfectly in room-temperature liquid.
Sugar. Does not dissolve as well, unless you're working with a warm liquid. Therefore, reserve sugar for ice pops that involve cooking.
You can turn sugar into liquid form by making simple syrup. Simply put water and sugar in a small saucepan and bringing it to the boil. Just allow to cool before adding.
Types of sweetener:
Honey
Maple syrup
Agave nectar
Sugar
Simple syrup
Stevia
Sweeten ice pops to taste. Freezing dulls the tastebuds a little, so the ice pop will taste less sweet once frozen than the ice pop mixture.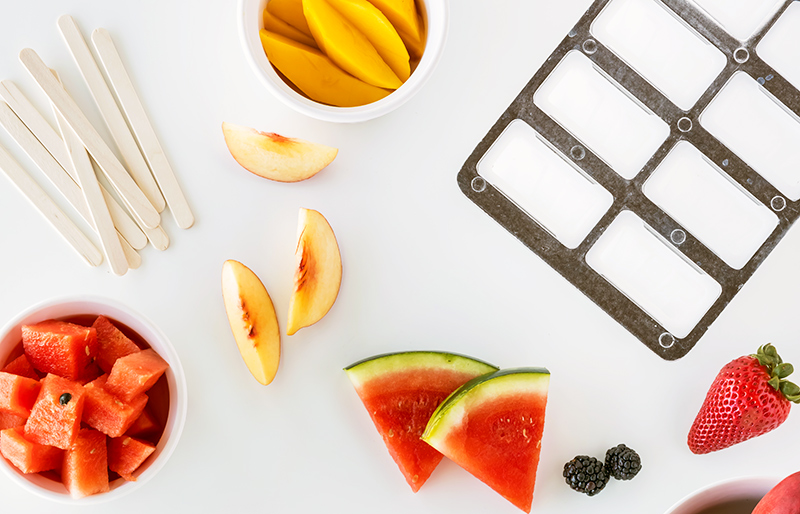 Citrus juice. This helps to bring out the flavor of the fruit. Add the juice of lemon, lime, orange, grapefruit, or other citrus.
Salt. As with everything, salt brings out and intensifies the flavors, including the sweetness of the ice pop.
Liquids (non-dairy). Fruit ice pop can be made with a wide variety of liquids, including:
Water
Lemonade
Coconut water
Tea
Kombucha
Fruit juice: apple, acai, cranberry, grape, orange, pomegranate, pineapple, and tropical fruit juice.
Vegetable juice: beet, carrot juice.
---
To summarize it all, here's an infographic on how to make ice pops of every type.