These healthy baked fish are light and seriously scrumptious. Packed with fresh ingredients, it's big on flavour, but lower on calories.
Instead of using mayonnaise to keep these fish cakes moist, this recipe uses egg to provide moisture, which massively cuts the calorie count.
To make this fish cake recipe healthier we use olive oil – a healthy unsaturated fat – instead of butter or other vegetable oils high in saturated fat.
To lighten up these fish cakes further, but still keeping it seriously tasty, we oven bake the fish cakes instead of the traditional method of deep-frying them in fat.
These baked fish cakes are very versatile, and a great way to use leftover fish.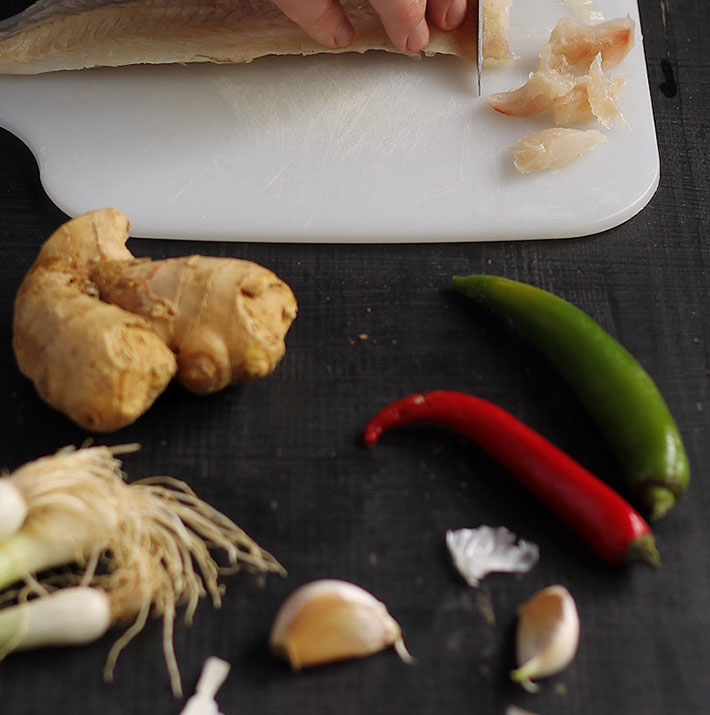 Quick and super easy to make, these healthier, lighter, and seriously tasty fish cakes will beat any pre-made, shop-bought alternative.
Print Recipe
Pin Recipe
Ingredients
1

pound

cod or similar white fish fillets

(or left-over baked or grilled fish)

1/2

pound

starchy baking potatoes

peeled and cubed

1

tbsp

ginger

peeled and minced

2

scallions

finely chopped

1/2

cup

cilantro

1

red chile (de-seeded and minced)

or 1/4 tsp cayenne pepper

2

tbsp

olive oil

salt

to taste

black pepper

to taste
Instructions
Place cubed potatoes in cold, salted water and bring to the boil. Reduce heat to a simmer and cook until just cooked, about 10 minutes. Then drain and allow to dry, before mashing.

In the meantime (if not using left-over baked/ grilled fish), poach the fish. Place fish in a pan and cover with salted water. Bring to a gentle boil, and allow to simmer for about 5 minutes (depending on the thickness of the fillet) until just cooked. Drain the fish from the water with a slotted spoon, remove skin and, using a fork, flake into large chunks. Discard any bones.

Place the fish, potatoes, chili, scallions, and cilantro in a bowl, add a squeeze of lime and season with salt and pepper. Use your hands to combine the mixture. Then divide and shape mixture into 4 to 6 even-sized fish patties and place on baking sheet lined with foil

To bake: Pre-heat oven to 400°F (200°C). Bake for 25 to 30 minutes until golden-brown and crisp. Midway through, turn over and brush tops with a little more olive oil.

To broil: Pre-heat broiler. Place baking sheet about 4 inches below the heating element. Broil for 5 to 6 mins each side until nicely brown on both sides and hot through. After flipping, brush top with more olive oil.