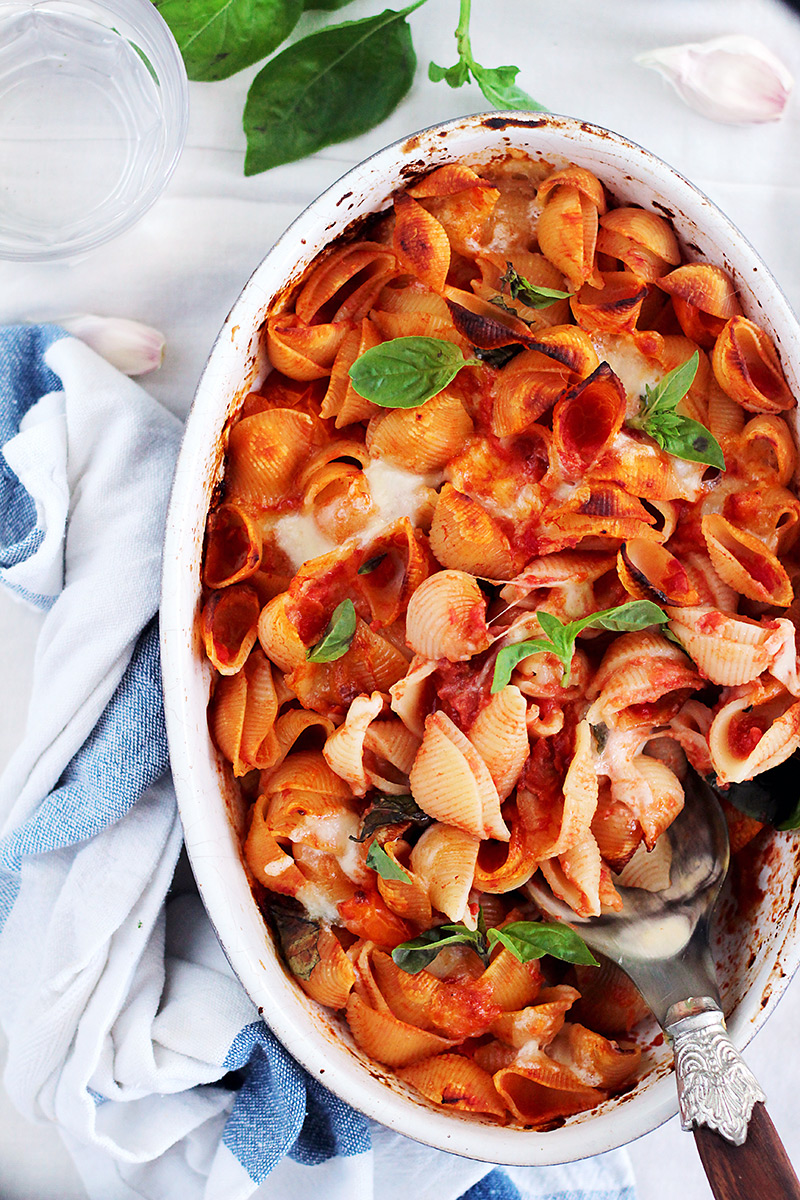 Rich tomato sauce. Gooey, tasty cheese. Fresh and bright basil aroma – these are the key ingredients of this healthy, full-flavored Mediterranean baked pasta treat.
We toss some chopped veggies such as peppers, courgettes, and mushrooms in the oven with a little olive oil and roast for a few minutes. But you can adapt this dish according to the seasons and what you have to hand. Add ingredients such as leftover chicken or vegetables.
Simply add these extras into the marinara sauce at the end, and mix in with the cheese and other ingredients. No need to overthink this super simple, versatile meal.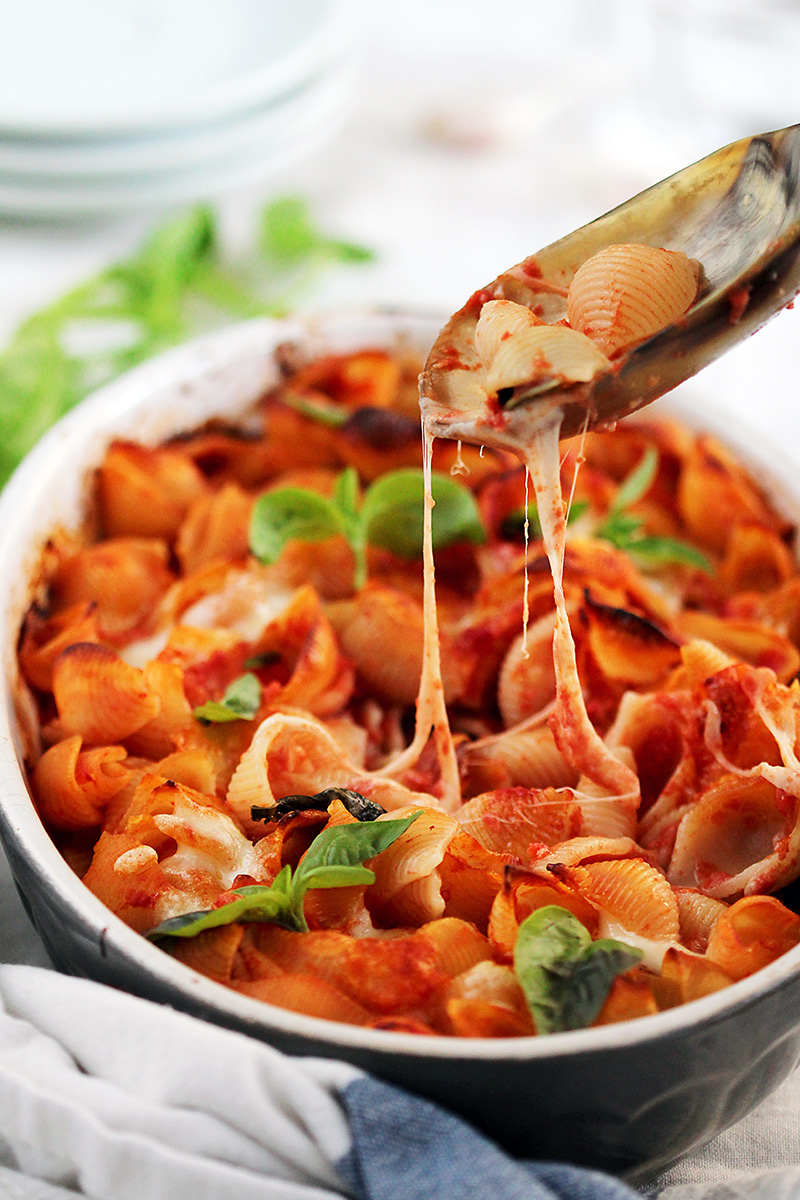 Go for fresh seasonal veggies or choose frozen veggies. Frozen veggies can be an especially good option in winter, when there is less super fresh produce.
Frozen veggies are often picked at peak ripeness, when they are most nutrient-packed. So frozen veggies have about the same amount of nutrients as their fresh counterparts (and sometimes more!).1 Plus, if they are already peeled and cubed, much of the prep has been done making it a great option for a mid-week dinner.
The best vegetables to make a flavorsome baked pasta dish, especially when roasted, are:
Peppers
Zucchini
Eggplant
Mushrooms
Onions
Squash (e.g. butternut squash, pumpkin)
You can also add other vegetables, such as carrots, peas, or cauliflower, which will add extra flavor and texture.
A simple, delicious mid-week meal, this flavorful dish is easy and quick to make.
Print Recipe
Pin Recipe
Ingredients
2

cups

short pasta

fussilli, penne, orecchiette

2

cups

tomato sauce

1

lb

ripe cherry tomatoes

2-3

cups

vegetables

chopped

1½

cups

mozzarella cheese

grated

½

cup

Parmesan

grated

2

garlic cloves

crushed

1

tbsp

balsamic vinegar

¼

tsp

cane sugar

optional

1

tbsp

extra virgin olive oil

1

handful

basil leaves

plus few leaves for garnishing

1

tbsp

salt

black pepper

freshly ground, to taste
Instructions
Preheat the oven at 175°C/347°F. Bring water to boil in a large pan, add 2/3 tablespoon salt and simmer the pasta. Cook the pasta about two minutes less than instructions on the packaging (it will cook further in the oven). While the pasta is simmering, roast chopped vegetables and prepare the tomato sauce.

Place chopped vegetables on baking tray with a spash of olive oil, salt, ground pepper, and Italian seasoning. Roast until tender, about 15 minutes.

Wash the cherry tomatoes, remove their stems and use with a sharp knife to cut a small cross on top of each tomato. Heat the olive oil in a big cast iron skillet, over medium heat. Add the crushed garlic and fry for 30 seconds, just to flavor the oil. Add the cherry tomatoes and cook for five minutes, until they start to release their juices, stirring frequently.

Add the tomato sauce, vinegar, sugar, freshly ground pepper, and salt to taste. Stir well to combine, bring to boil, then cover the skillet with a lid and let simmer for 7-10 minutes. Add the basil leaves and remove from the heat.

Drain the cooked pasta and transfer into the skillet with the tomato sauce. Add the Parmesan, mozzarella, and roasted veggies. Mix well and bake in the oven for 20 minutes. Serve topped with grated Parmesan and fresh basil leaves.