Green smoothies not your thing? Can't start the day without a cup of coffee? Need at least one sip of the brew before anyone can even think about engaging with you? Then why not turn your regular cup of joe into a healthier, tasty, protein-filled breakfast smoothie and kick your day off in style.
You'll get your much needed hit of caffeine and breakfast too! Plus an extra boost of vitamins, minerals, and healthy fats. When caught in the morning rush, you needn't choose between making a cup of coffee or breakfast anymore.
This is for you too, if you're into those sweet, chilled, irresistible coffee beverages from your favorite coffee house. If weight loss is your goal (check out how to make a weight loss smoothie) or you just want to be healthier, it's time to step away from the artificially sweetened, food additive filled, calorie-packed coffee drinks and make your own awesomely indulgent coffee banana smoothie, packed with goodness.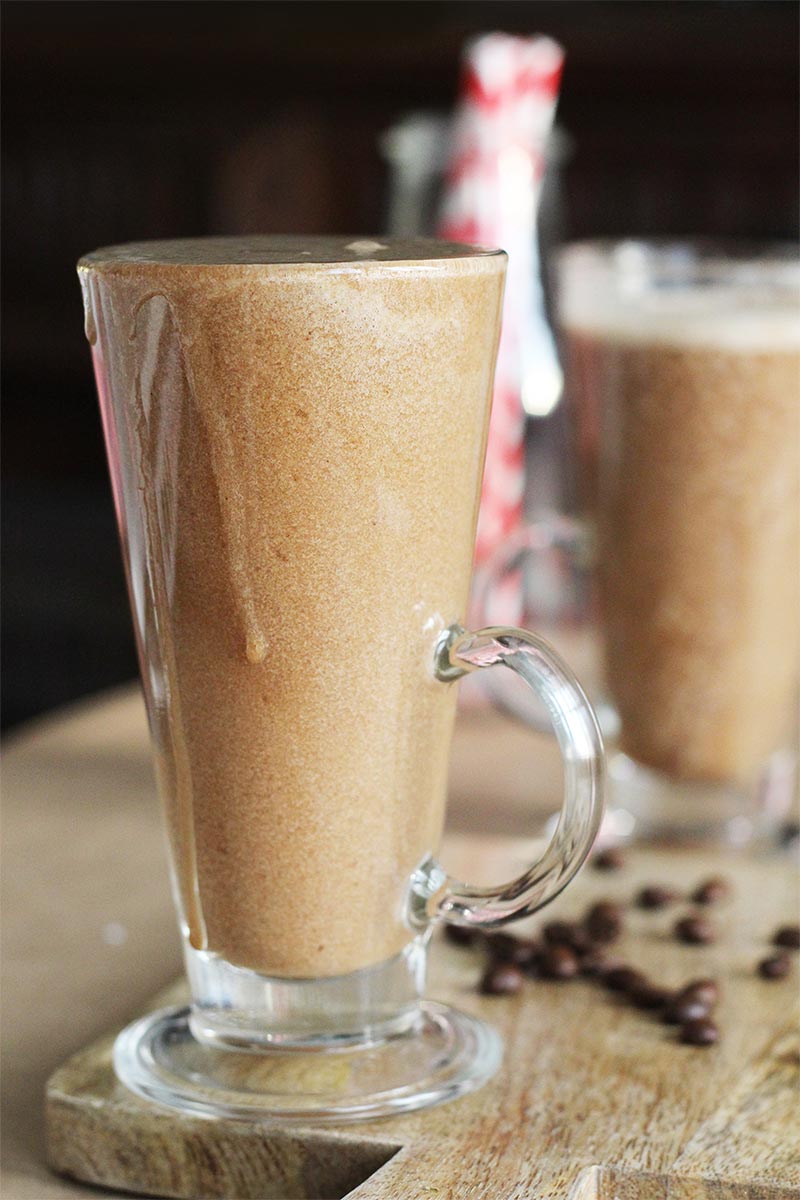 This high-protein shake is satisfying and healthier. It's filling and energizing, while cutting out the artificial sweeteners and heavy cream you'll often find in coffee drinks.
We add coconut milk, protein powder, flaxseed, cinnamon and nutmeg for a thick, creamy and sweet smoothie recipe low in calories and rich in protein, that will keep you fuelled and energised. If you want to skip the banana check out how to make a smoothie without banana creamy and smooth.
Cold-brew coffee and breakfast in one glass. Coffee and smoothies. Two great morning obsessions. It's the perfect combo.
Print Recipe
Pin Recipe
Ingredients
1

banana

ripe

1/2

cup

cold coffee

1/2

cup

coconut milk

1

scoop

vanilla protein powder

1

tbs

ground flax seed

2

tsp

honey/ agave

1/2

tsp

cinnamon

1/4

tsp

nutmeg

ice cubes

for added thickness
Instructions
Combine all ingredients in a blender.

Blend until smoooooth!

Pour into glass and enjoy.
Tip
Chill leftover coffee in the fridge or freeze leftover coffee into ice cubes. Then add to smoothies when needed.
Read more: How to make a smoothieSave