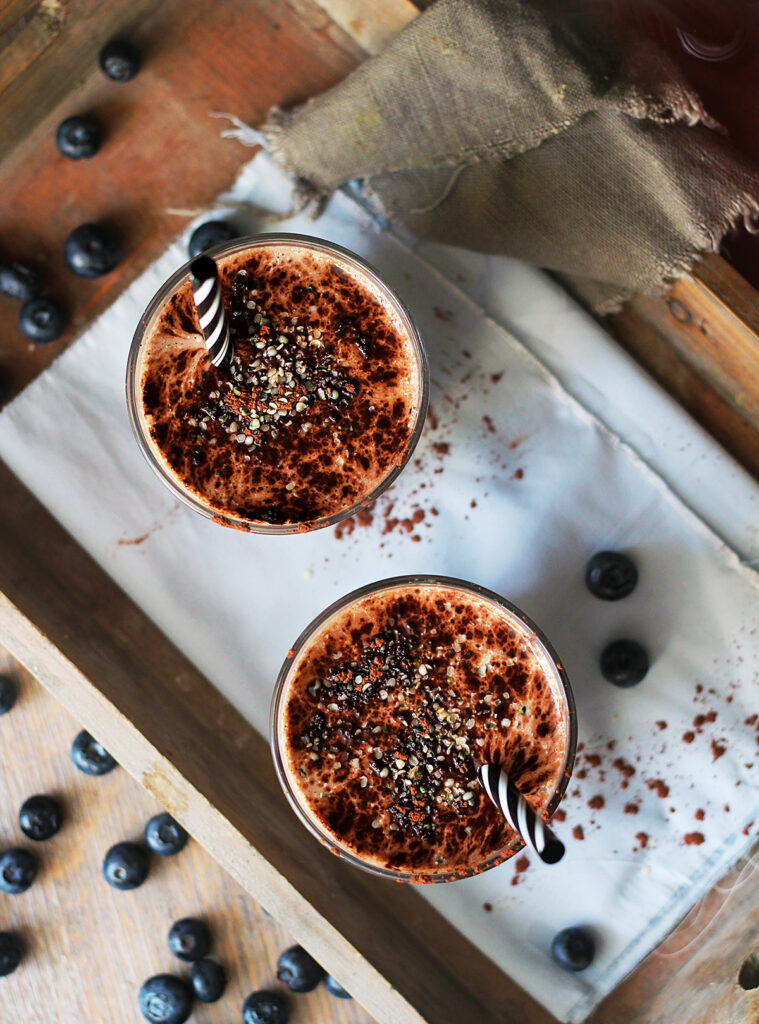 Get your chocolate fix and hit your five-a-day with this rich and satisfying chocolate smoothie. This smoothie contains protein, healthy fats and complex carbs, and so makes for a great breakfast smoothie or post-workout smoothie.
Healthy Chocolate Smoothie Ingredients
Chocolate is of course the superstar ingredient. Indulgent, opulent, and… healthy. This chocolate smoothie contains cacao or cocoa powder, which allows you to get all the rich, chocolately goodness, without the refined sugar or saturated fat found in solid chocolate.
Cacao vs Cocoa – What's the Difference?
Cacao powder is a raw product made with unroasted beans that are cold-pressed and then milled into a powder. Due to it's
Nutrition: This gentle process means much of the impressive nutritional properties of the raw cocoa seeds are retained. Cacao is rich in antioxidants called flavanols, magnesium, zinc, and a vegan source of iron. Due to it's high nutritional value it's often referred to as a superfood.12
Flavor: Cacao powder is a bit more gritty in texture. It is also slightly more bitter, though still chocolatey, than the more commonly used cocoa powder.
Cocoa powder is made with roasted beans and processed at a much higher temperatures.
Nutrition: Because cocoa powder is much more processed it contains relatively few nutrients. Also cocoa powder often contains added ingredients, such as sugar and dairy.
Flavor: Roasting the cacao beans develops the chocolate flavor and further processing adds sweetness.
How to buy: If you opt for cocoa powder look for an unsweetened product with few additives and less processing. Avoid cocoa powder that has undergone Dutch processing, which is when cocoa is treated with an alkali to further increase sweetness.
As cacao has a stronger flavor, add about 2 tablespoons of cacao powder or 3 tablespoons of cocoa powder. Of course if you like your smoothie more or less chocolatey change this to suit your tastes.
Berries add a healthy dose of vitamins, minerals, antioxidants, and fiber. But also infuse this smoothie with a dash of freshness.
Banana is fiber-rich, makes this smoothie filling, and adds natural sweetness. Bananas take a backseat in terms of taste which is barely noticable, allowing the chocolate flavor to dominate and shine.
Almond butter adds healthy fat, lends this smoothie a creamy texture, and makes it more filling. It also adds a mild and delightful nutty taste to complement the chocolate flavor.
Hemp hearts boost the nutritional content of this smoothie and make it more filling. Hemp seeds are rich in protein and heart-healthy fats, as well as iron, magneiusm, B-viatmins, and zinc. They have a lovely mild, nutty flavor and complement the flavors in this smoothie perfectly.
If you don't have hemp hearts to hand simply add other healthful add-ins such as chia seeds, ground flaxseeds, or oats.
Milk. We use almond milk to complement the nutty undertones in this smoothie recipe. If you don't have almond milk use what you've got to hand.
Spinach takes the nutritional content of this smoothie stratospheric, without imparting flavor. You can sub the spinach for other leafy greens. However, spinach is very mild and a small handful wont affect taste.
If making a post-workout smoothie and you want to up the protein content, swap out some of the milk for low-fat Greek yogurt or add a scoop of chocolate protein powder.
Read more: How to make a smoothie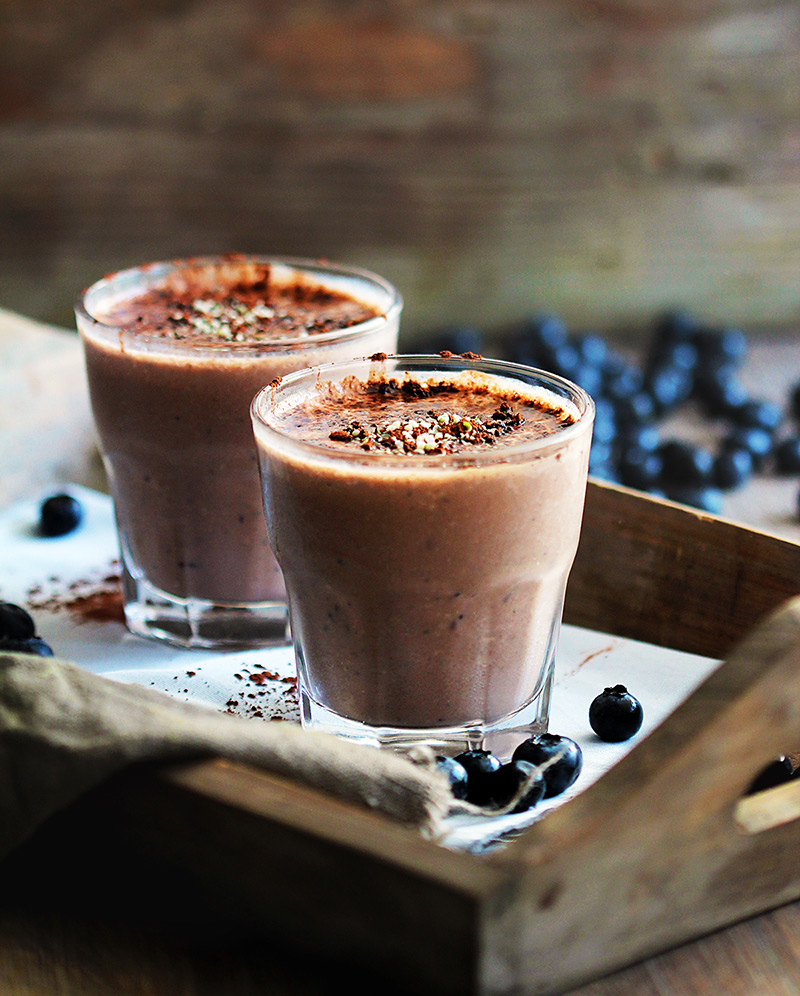 Full of antioxidants and naturally sweetened, this healthy chocolate smoothie is the super delicious, nutrient-packed answer to the siren call of a chocolate craving.
Print Recipe
Pin Recipe
Ingredients
¼

cup

berries

frozen

1

banana

ripe, frozen

1

tbsp

raw cacao powder

or unsweetened cocoa powder

1

tbsp

almond butter

1

tbsp

hemp hearts

optional

1

cup

almond milk

or preferred milk

¼

tsp

vanilla extract

1  

small handful

fresh spinach

optional
Instructions
Place all ingredients in the blender. Process until smooth.

Poor into glass and sprinkle with cacao powder. Drink immediately to reap maximum nutritional benefit of the fresh ingredients.
Tip
If the bananas are not particularly sweet or you just like your smoothies on the sweeter side add a little liquid sweetener such as maple syrup or 2 to 3 dates, which will add a lovely caramel flavor.
If you're using fresh fruit or prefer your smoothie on the thicker side a few ice cubes to make the smoothie thicker.