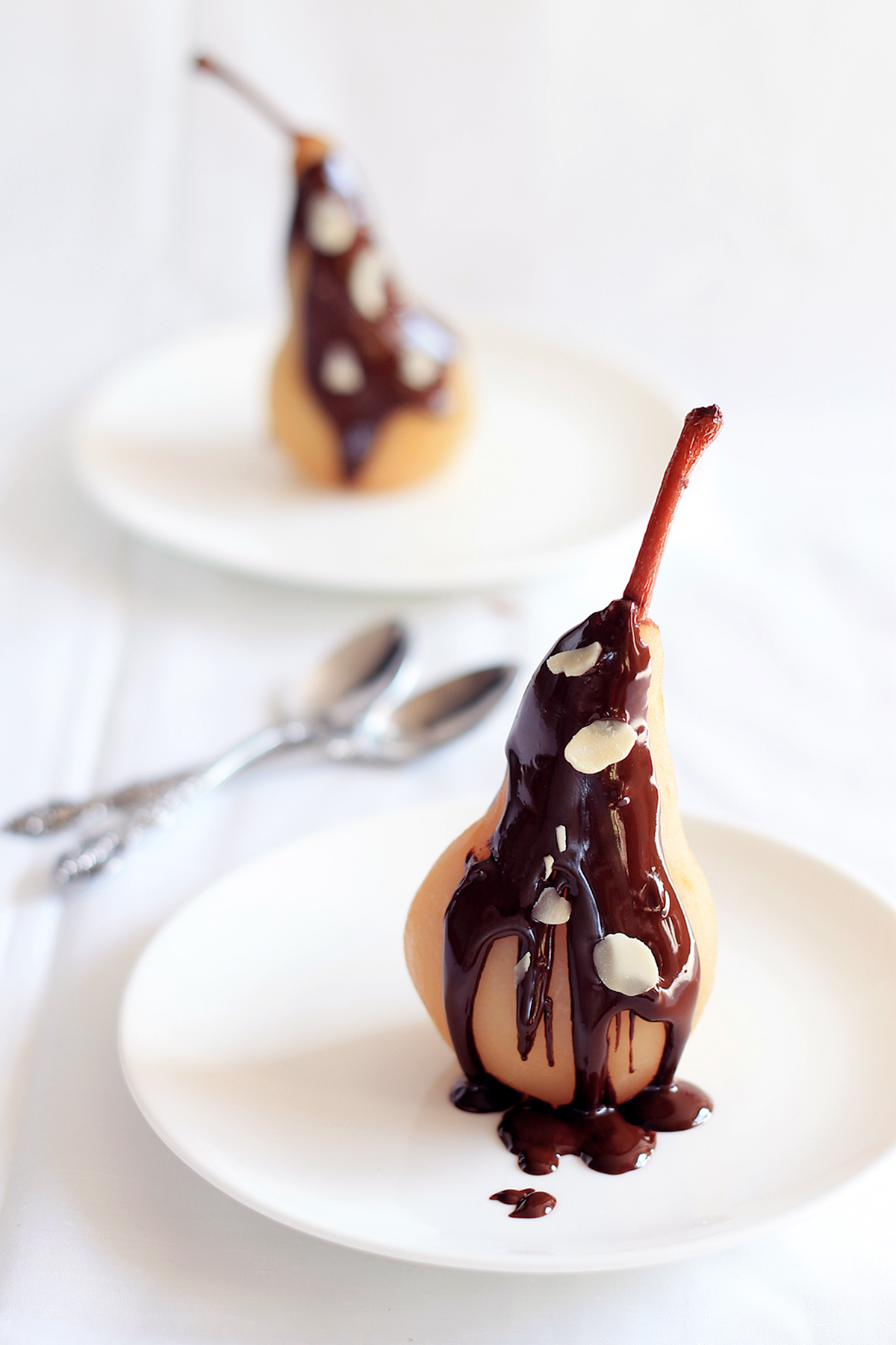 Beautiful as it is simple, this elegant dessert is sure to be a crowd-pleaser. The sweet mellowness and lusciously textured poached pear is a perfect match for the smooth, rich chocolate sauce.
Pears are hard to catch perfectly ripe. However, poaching a not quite ripe pear produces a meltingly soft, fragrant, and sweet pear. In fact, you want to avoid using fully ripe pears, as it may yield a soft and soggy result.
Poached pears is also a very versatile dessert and you can easily adapt it to suit your tastes and occasion. The poaching liquid generally consists of liquid, sweetener, and warming winter spices.
Base liquid (about 2 cups for 4 pears): water, fruit juice, spiced tea, red wine (fruity red, low in tannins works well), white wine.
Sweetener (to taste): sugar, honey, agave, maple syrup
Spices: cinnamon sticks, star anise, cloves, vanilla, fresh ginger, lemon or orange zest, peppercorns.
To finish, serve with melted chocolate, a drizzle of cream, vanilla ice cream, thick yogurt, crème fraîche, or nuts. Berry coulis or pomegranate seeds, also add a lovely pop of color. For a light treat, serve pears without toppings.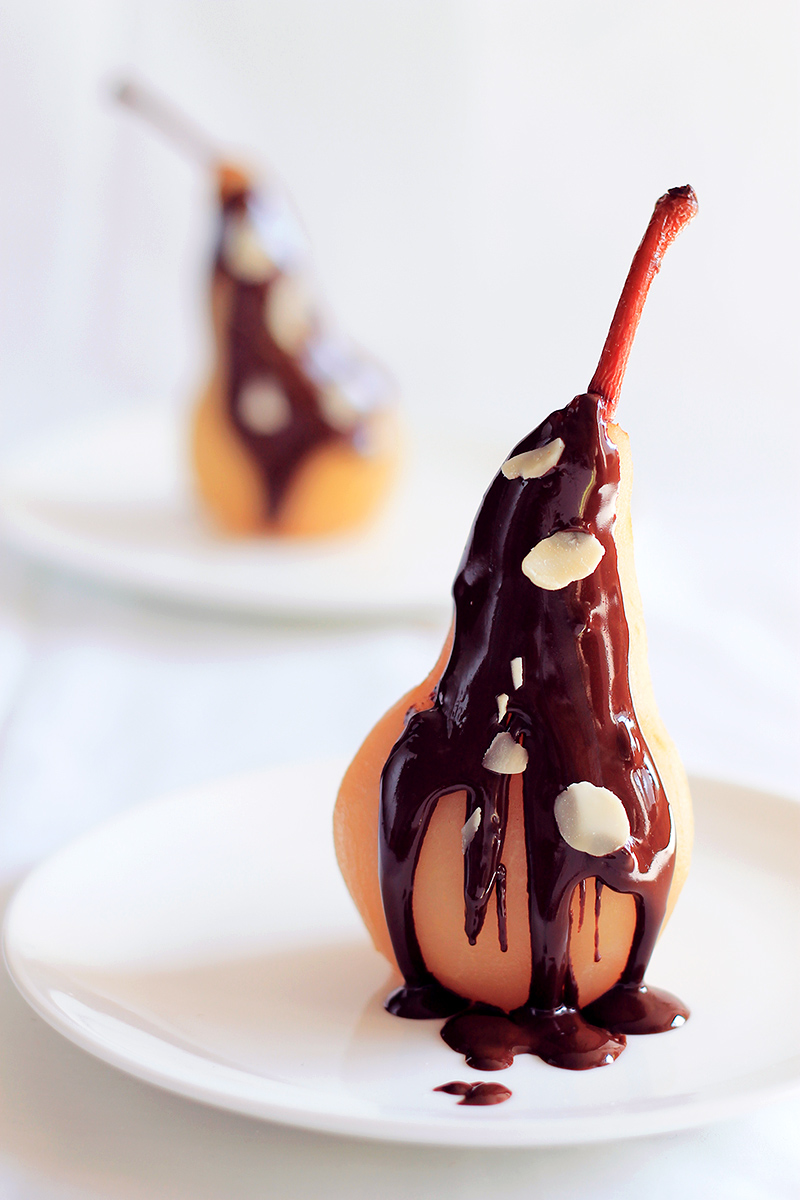 Simple and elegant, poached pears are a classic dessert that makes for a lovely finish to any dinner.
Print Recipe
Pin Recipe
Ingredients
2

cups

water

or wine

½

tbs

mild honey

or sugar

½

orange

rind

2

whole star anise

1

cinnamon stick

4

pears

peeled and cored, with stem intact

7

oz

semi-sweet or bittersweet chocolate

chopped

1

tbsp

sliced almonds
Instructions
Peel the pears, leaving the stems attached. Cut a thin slice from the bottom of each pear, so that the pears can stand upright.

Place water (or wine), honey, star anise, orange peel, and cinnamon in a pan just large enough to hold pears sitting upright in one layer. Bring to a boil, reduce the heat and simmer for 5 minutes, stirring occasionally to dissolve the sugar.

Add the pears and simmer gently for 15 to 20 minutes or until pears are just tender. Pears should be easily pierced with the tip of a sharp knife, but still slightly firm and holding its shape. Allow pears to cool in poaching liquid. Once cooled, remove pears and set aside.

Bring poaching liquid to boil and reduce down to about half the volume. Remove cinnamon stick, star anise and orange peel. (If not making chocolate sauce, spoon some this syrup over each pear.) Reduce heat, add chocolate and gently whisk until melted and smooth.

Transfer the pears to a serving plate. Drizzle pears with chocolate, sprinkle with almonds, and serve with or without vanilla ice cream or cream. Garnish with strands of orange peel and star anise.