"Crostini" translates as "little toast" in Italian. These small slices of bread are toasted until crisp then piled with delicious toppings. So still avocado toast, but better! These mini toasts make for the perfect party appetizer at a drinks party, before dinner, or anytime you fancy a healthy, delicious snack.
Pomegranate doesn't just make this crostini taste better and give it a helping hand in the looks department, it injects a massive nutritional boost too. Pomegranates are a treasure trove of source of antioxidants, which help our body fight cellular damage and aging caused by daily exposure to pollutants, and may also help reduce chronic inflammation.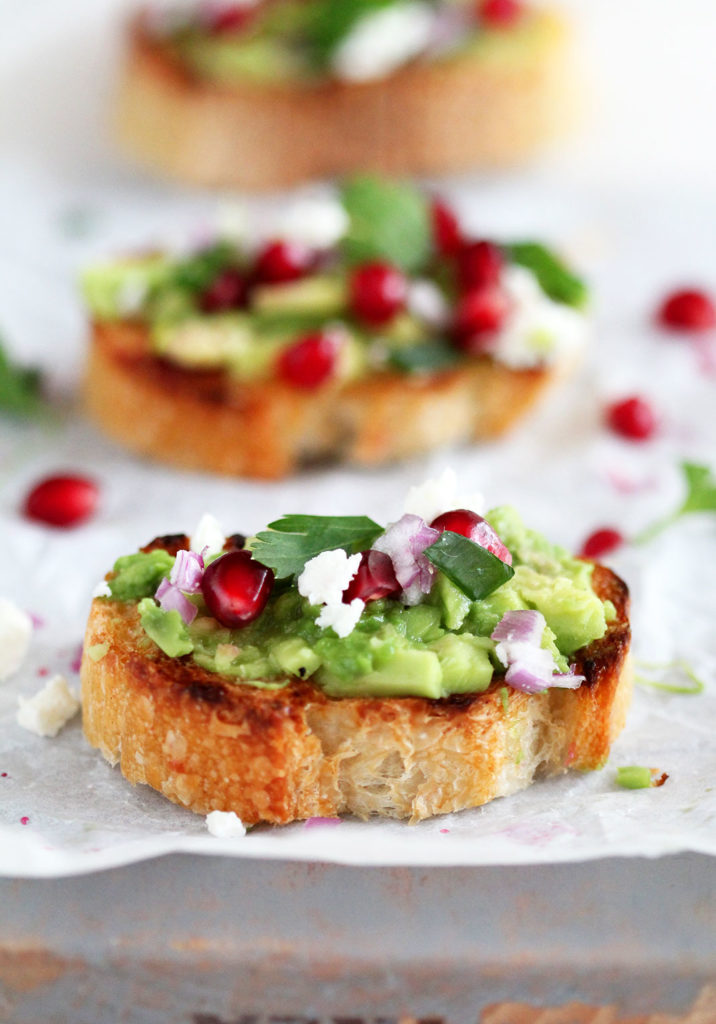 We use avocado instead of butter, so cutting down on bad fats and upping your intake of healthy fats (which actually help lower bad cholesterol). Plus, avocado boasts a whopping 18 vitamins and minerals, and is especially rich in B vitamins.
In a nutshell? This avocado pomegranate crostini is super tasty, easy to make, looks good too and above all highly nutritious!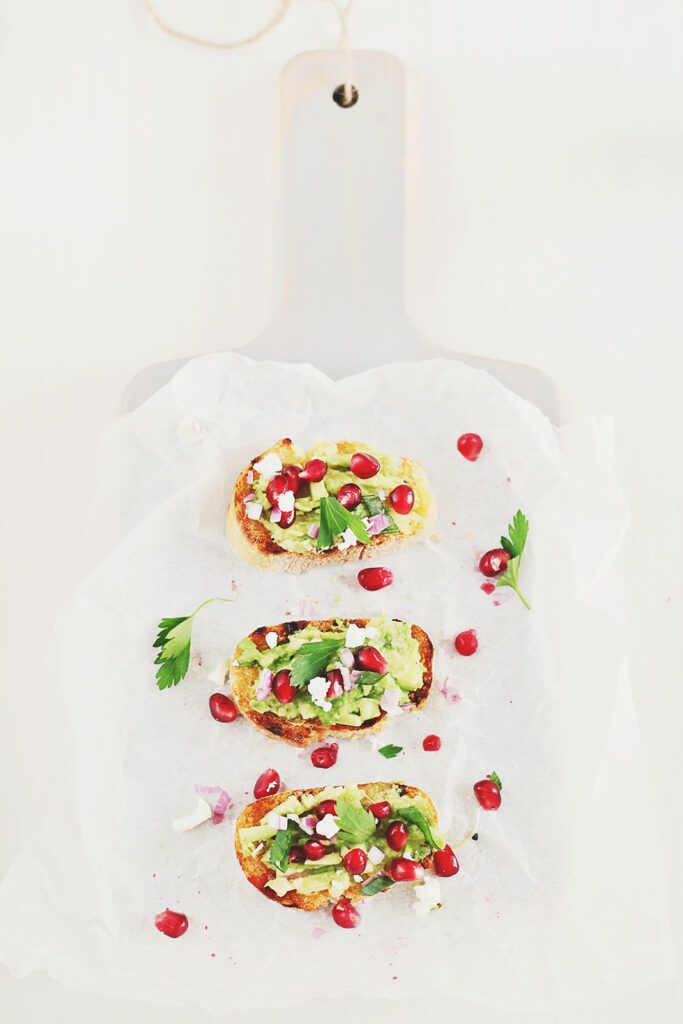 This bright and fresh appetizer adds a fruity mix-in of pomegranates that injects a burst of flavor and color to the crostini.
Print Recipe
Pin Recipe
Ingredients
1

good quality sourdough baguette

thinly sliced

1

ripe avocado

The juice from 1 lime

1

scallion

finely chopped

1/2

small red onion

finely chopped

1/4

cup

goat cheese

3

tbsp

pomegranate seeds

1

tbsp

extravirgin olive oil

A pinch of salt

Freshly ground black pepper
Instructions
Preheat the oven to 175°C/350°F. Slice the baguette, brush with olive oil and toast in the oven for 10 minutes, or until its color turns into a beautiful golden brown.

Meanwhile, prepare the topping – cut the avocado in small cubes and mix them in a bowl with the chopped red onion, lime juice, chopped scallion, the olive oil, salt and pomegranate seeds. Mix carefully to avoid crushing the pomegranate seeds.

Distribute evenly with a spoon over the baguette slices, decorate with crumbled goat cheese, grind some black pepper, drizzle a bit of olive oil and serve right away.