Super versatile. Parfaits are a glorious treat that you can adapt for any occasion. From delicious and nutritious breakfast parfaits to on-the-go snacks and decadent desserts, these layered concoctions are awesome.
Fruit and yogurt parfaits make an especially great breakfast. Not just easy on the eyes, they're packed with nutritious ingredients and filling too, and will keep you going all the way 'til lunchtime. You can even make it ahead, so you'll be out the door in no time. Just grab your breakfast and go.
What is Parfait?
par·fait /pärˈfā/
Originating from France, and translating as "perfect", parfait is traditionally a cold dessert made of layers of fruit, syrup, cream, and other flavors.
Yogurt (base). This is your creamy base. Use regular, flavored or Greek yogurt. Greek yogurt is particularly creamy and packs in the protein, compared to regular yogurt. Protein is a key component of a healthy breakfast and will help keep you energized all morning. You can also add cocoa, vanilla extract and other flavorings to the yogurt for extra flavor.
Alternatively, make parfait without yogurt and use chia pudding instead (mix together chia seeds and vegan milk, and allow to set in fridge for 1-2 hours or overnight).
Fruit (flavor). This is where you choose the key flavor of your parfait. Add berries or alternatively chopped fruit such as mango, kiwi, melon, or banana.
Berries work particularly well and are rich in antioxidants and vitamins. Blueberries, blackberries, raspberries, and pomegranates have the highest antioxidant activity of commonly eaten fruits.1 Antioxidants, such as resveratrol and anthocyanins, help to protect cells from free radical damage, are great for skin health, and may have protective effects against a variety of health conditions.2
Sweeten. For natural sweetness add honey, agave nectar, or dates. Dates have the added benefit of also being rich in fiber and nutrients. For a more desserty parfait add sugar.
Crunch. For crunch and texture add granola, nuts, or seeds. Nuts and seeds provide a good dose of heart-healthy fats, which makes the parfait nutritionally balanced and filling too. Oats lower cholesterol and are high in a fiber called beta-glucan, which slows digestion, increases satiety, and suppresses appetite.34
For a twist on your regular breakfast cereal, add crunchy ready-to-eat cereal such as Cheerios. If making as a dessert try crushed amaretti biscuits or you favorite biscuit.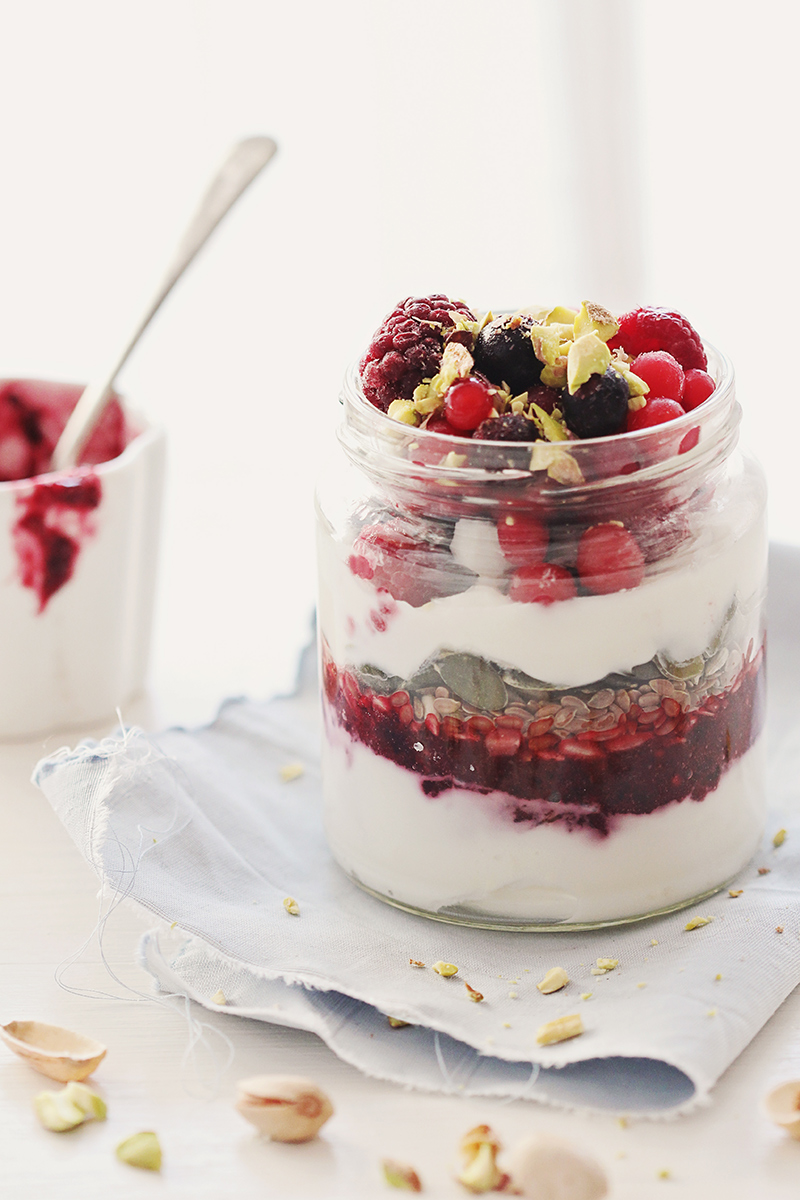 Crunchy, decadent, and filling. Start your day with a fabulous layered fruit & yogurt parfait.
Print Recipe
Pin Recipe
Ingredients
1½

cups

fruit

(berries or chopped fruit)

1

cup

yogurt

(Greek, natural, or flavored)

2

tsp

agave nectar

(or preferred sweetener)

½

cup

granola

(or crushed nuts, seeds)
Instructions
Combine the fruit and agave nectar in a bowl and allow to sit a couple minutes. If using berries, you can place them in a blender and process to obtain a jammy texture.

In a glass or an air seal jar alternate layers of yogurt, fruit (or fruit jam), and granola. Add yogurt first, then top with fruit mixture, followed by granola, another layer of yogurt, and finally the remaining fruit.
Tip
If using a jar, make sure you fill it to the top to prevent the layers mixing.