Moist. Rich. Super flavorful. This classic banana bread recipe does it all. Perfect for breakfast or brunch, or serve as a dessert, topped with a scoop of ice cream.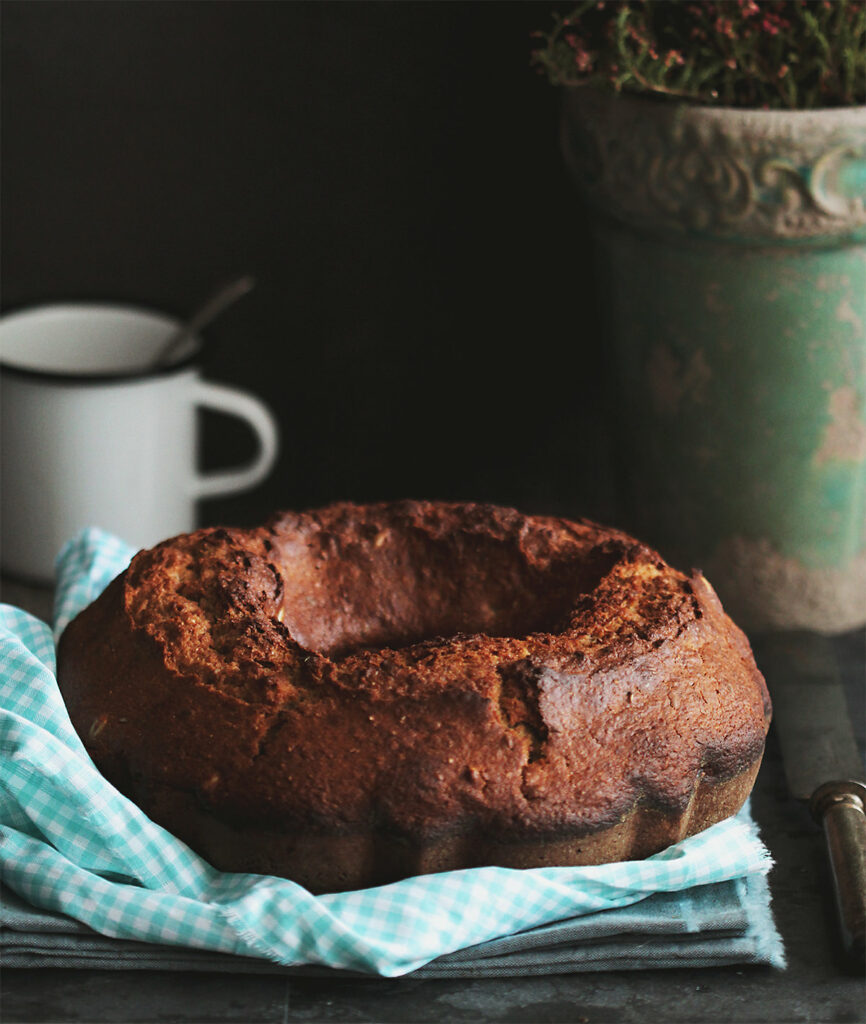 Tasty and healthy to boot, this vegan banana bread is incredibly easy to make. It's an easy recipe that uses ingredients you'll most likely have to hand. Here's what's in this banana bread:
Flour. A mix of whole wheat flour and all purpose flour. Whole wheat pastry flour is rich in nutrients and lends this banana loaf a rich texture and a light nutty flavor, and mixed with all purpose flour you get a beautifully moist texture.
Coconut oil (or other neutral oil). This vegan recipe calls for coconut oil. Alternatively, you can use other neutral oil, such as extra-virgin olive oil. If you're not vegan or dairy-free, you could swap in butter (1 stick butter – about 8 tablespoons) if you prefer. And if you looking to avoid fat entirely, you could use unsweetened applesauce instead, though it is likely to be heavier and less moist.
Bananas. Bananas add moisture, sweetness, and of course flavor! The calories in bananas are a little higher than in some other fruit, but they're also full of nutrients, high in fiber, and a healthy way of adding sweetness. For a banana bread that is wonderfully moist and bursting with banana flavor, use very ripe, freckled bananas. You know the brown or black ones you're tempted to discard or freeze because they're overripe. These are perfect for making banana bread. Because the riper the bananas, the more flavor you get and the less sugar you'll need.
Brown sugar. Use brown sugar or for an even richer flavor add coconut sugar instead. This recipe calls for 1/2 cup of sugar, but you can adjust this to suit your tastes. Alternatively, use maple syrup or honey (about a 1/3 cup) to sweeten – just be sure to add it to the mixture with the other wet ingredients (step 3).
Banana Bread Recipe Variations
Simple, versatile, and easy. This recipe is infinitely adaptable, allowing for numerous add-ins to personalize it and make it your own perfect banana bread. It's a banana bread recipe that inspires a million variations.
So adapt it, play with the ingredients, and make it your own. Here's how you can mix things up:
Go nuts. Add chopped walnuts, pecans or almonds.
Make it fruity. Add raisins, cranberries, blueberries, dried apricots, Medjool dates, or dried cherries.
Make it fruity and nutty. Add ¼ cup of nuts and a ¼ cup of dried fruit.
Add… chocolate. Instead of nuts or fruit add chocolate chips or even peanut butter chips.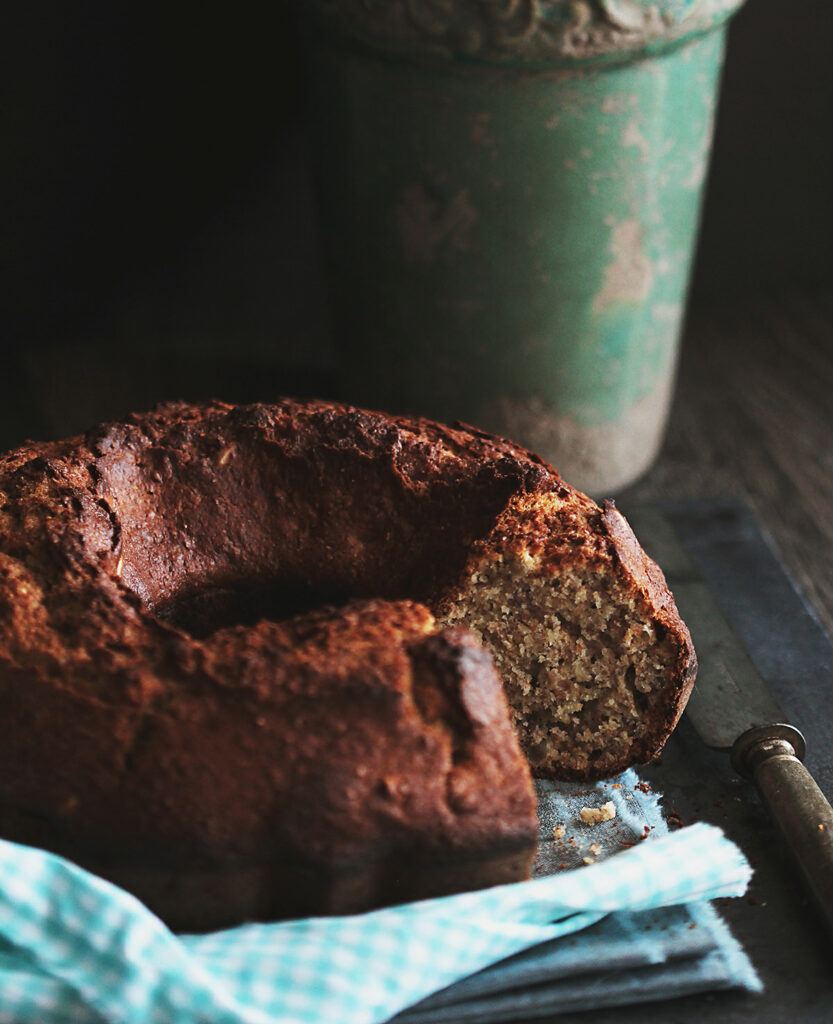 Hearty, rich, and perfectly moist. This vegan banana bread is a little bit more special. With depth or flavor and texture, you'll be making it again and again!
Print Recipe
Pin Recipe
Ingredients
1 ½

cups

all-purpose flour

½

cup

whole wheat flour

3

large bananas

overripe

½

cup

brown sugar

or coconut sugar

⅓

cup

coconut oil

plus more for pan

2

tsp

baking powder

2

tbsp

ground flax seeds

(flax eggs, use 2 eggs for non-vegan version)

2

tsp

cinnamon

1

tsp

vanilla extract

½

tsp

salt

splash

unsweetened non-dairy milk

(if needed)

½

cup

nuts, dried fruit, or other favorrite add-in (e.g. chopped walnuts, pecans, raisins, grated dried coconut, chocolate chips)

optional
Instructions
Prepare Pan

Preheat the oven at 200°C/392°F. Grease baking pan with coconut oil and sprinkle with flower. Use a 9- by 5-inch loaf pan, or opt for a Bundt cake pan for a more striking presentation.

Make Flax Eggs

Combine the ground flax seed with 5 tablespoons water to make the flax eggs. Set aside and allow to slightly thicken.

Combine Banana with Wet Ingredients & Sugar

Peel the ripe bananas, and mash them with a fork in a large mixing bowl. Add the sugar, coconut oil, vanilla, and soaked flax seeds, and stir together until combined.

Stir in Dry Ingredients

Add the baking powder, salt, cinnamon, flour, and lastly nuts (if using) one at a time, in the order listed. Stir until just combined, being careful not to over mix.

Stop stirring when there are no longer any patches of flour at the bottom of the bowl. If the mixture is too thick, add two tablespoons of vegan milk of choice.

Bake

Pour batter into greased loaf pan and bake for 1 hour. Test with a toothpick, which inserted into center should come out clean when done. Allow to cool for about 15 minutes before removing from the pan and slicing.