Calzone is basically an Italian pizza folded in half, making it a more portable, snackier version of pizza. Easy to eat on the go. Pack it in your picnic basket and enjoy it with your friends.
We make our own healthier whole wheat dough for this folded pizza recipe, boosting the nutritional value and fiber content. Whole wheat flour also gives this calzone an artisan flair.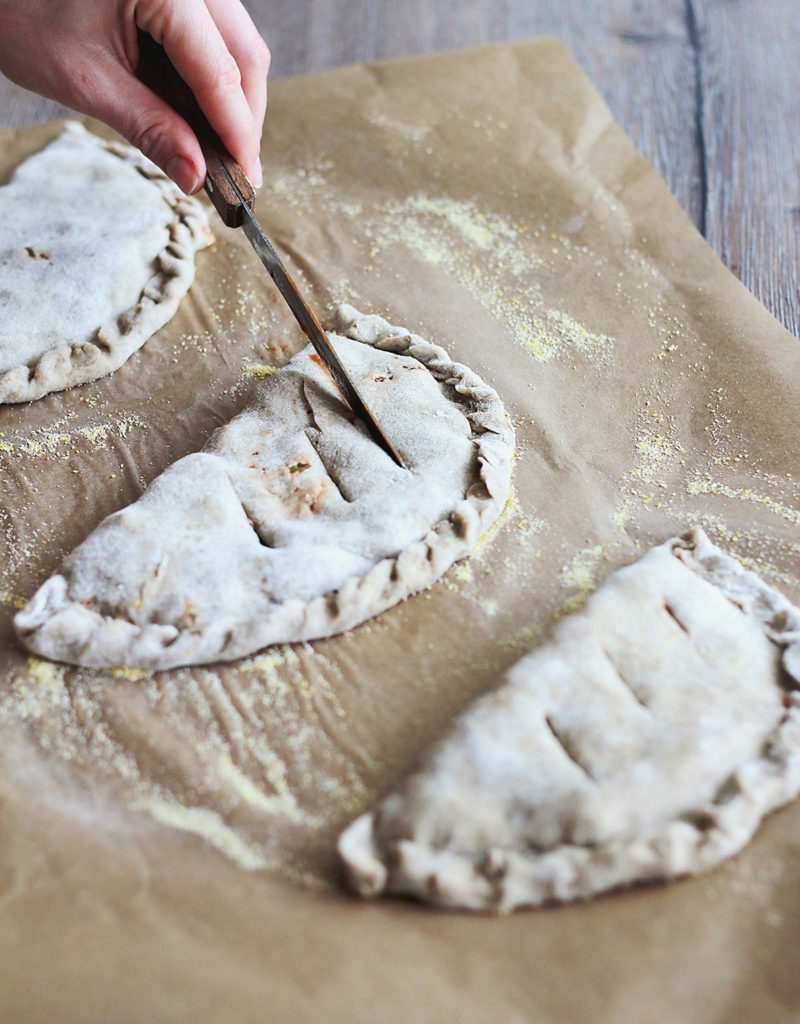 Much of the toppings and flavors are the same as those for pizza, but it also lends itself to filling it with any leftover vegetables from last night's dinner or leftover ends in the fridge.
This recipe uses wholemeal flour and veggie filling for a lighter and healthier twist on the classic recipe.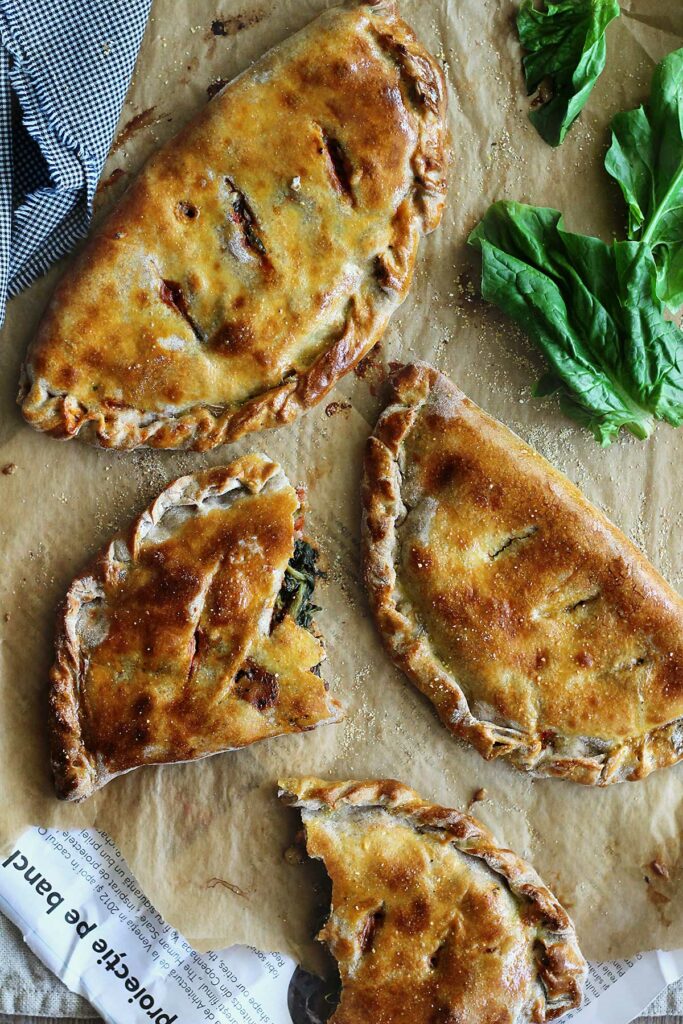 Calzones make for a great relaxed dinner. Simply pair with a nice green salad for a complete and healthy meal. Or freeze and eat later. Calzones are fantastic for pack lunches, picnics, or road trips.
Print Recipe
Pin Recipe
Ingredients
For the crust:
1

cup

whole wheat flour

1/2

cup

plain flour

1

tsp

dry active yeast

1

tsp

raw cane sugar

1/3

cup

warm water

1/2

tsp

pink Himalayan salt

1

egg yolk

for brushing the dough
For the filling:
3

cups

frozen spinach

1

small onion

finely diced

2

garlic cloves

1

cup

good quality goat cheese

crumbled

4

tbsp

Pizza sauce

1

tsp

olive oil

1/8

tsp

pink Himalayan salt

Freshly ground black pepper
Instructions
For the crust:
Mix the active yeast with warm water and sugar, and allow to rest for 10 minutes, to activate the yeast.

Mix flours and salt, and pour the yeast mixture over it. Knead the dough for 5-6 minutes (you can use a food processor) until you obtain a smooth and moist dough.

Shape into a ball, cover with a clean kitchen towel and allow to rise for at least 30 minutes.
For the filling:
Meanwhile, prepare the filling. Heat the olive oil in a cast-iron skillet. Fry the onions and crushed garlic for 2-3 minutes, stirring frequently. Add the frozen spinach and a little water, then cover the skillet with a lid and let the spinach cook for 5 minutes, stirring frequently. When all the liquid has evaporated, the spinach is ready. Remove from the heat, transfer to a bowl and allow to cool.

Once the spinach has cooled, add the crumbled goat cheese, season with salt and pepper and stir well to combine.

Preheat the oven to 200°C/400°F.

Divide the dough in 4 portions. Roll out each dough portion on a lightly floured surface.

Spread one tablespoon of pizza sauce on each dough circle.

Then place 1/4 of the filling mixture onto one half of each dough circle, leaving a 1inch gap around the edge. Carefully lift the far edge of the dough circle, pulling it over the top to cover the filling so that it is folded in half, resembling a half-moon shape. Seal the edges of dough by pressing it with a fork. Use a sharp knife to make small cuts on top of the calzone.

Brush calzone with egg yolk, to achieve a beautiful golden color.

Transfer calzones onto a preheated baking sheet lined with parchment paper, and bake for 7-10 minutes or until the dough is cooked through and the filling hot. Remove from oven, allow to cool and serve immediately, or pack for a picnic.