'Tis the season for pumpkin pie. And this healthier version won't disappoint. With a smooth and silky filling, and a golden, buttery crust, it's a pumpkin pie that'll lift your spirits.
The filling. Use canned or make your own pumpkin purée. You can also use butternut squash for a lovely twist on a classic dish. It has a lovely sweet flavor (and is easier to peel!).
To make your own purée simply peel, halve and seed the squash. (If the squash is too hard to cut, place in the microwave for a couple of minutes to soften). Then cut flesh into 1 1/2-inch chunks and coat with a little oil or melted butter. Roast at 400F until the squash is tender, about 40 minutes. Roasting it like this brings out the rich flavors of the squash.
Allow squash to cool, place in a food processor, and puree until smooth. If the pumpkin puree is thinner than you'd like, place it in a fine mesh strainer over a bowl to strain off the excess liquid.
Add-ins. You can also switch things up by using individual spices for a more intense flavor (see below). Or make it a little naughty and elevate it further by adding a tablespoon or two of cognac or your favorite spirit to the filling.
The crust. If you're short on time, make this pumpkin pie with a store-bought crust instead. Or omit the crust entirely to make a crustless pumpkin pie, and bake the filling in a greased pan or individual ramekins.
Add a dollop of whipped cream or coconut cream and you've got yourself a little slice of heaven!
P.S. If you're making your own pumpkin purée, keep the seeds and roast them with a little olive oil. Pumpkins have impressive health benefits, but so do pumpkin seeds which are bursting with healthful nutrients.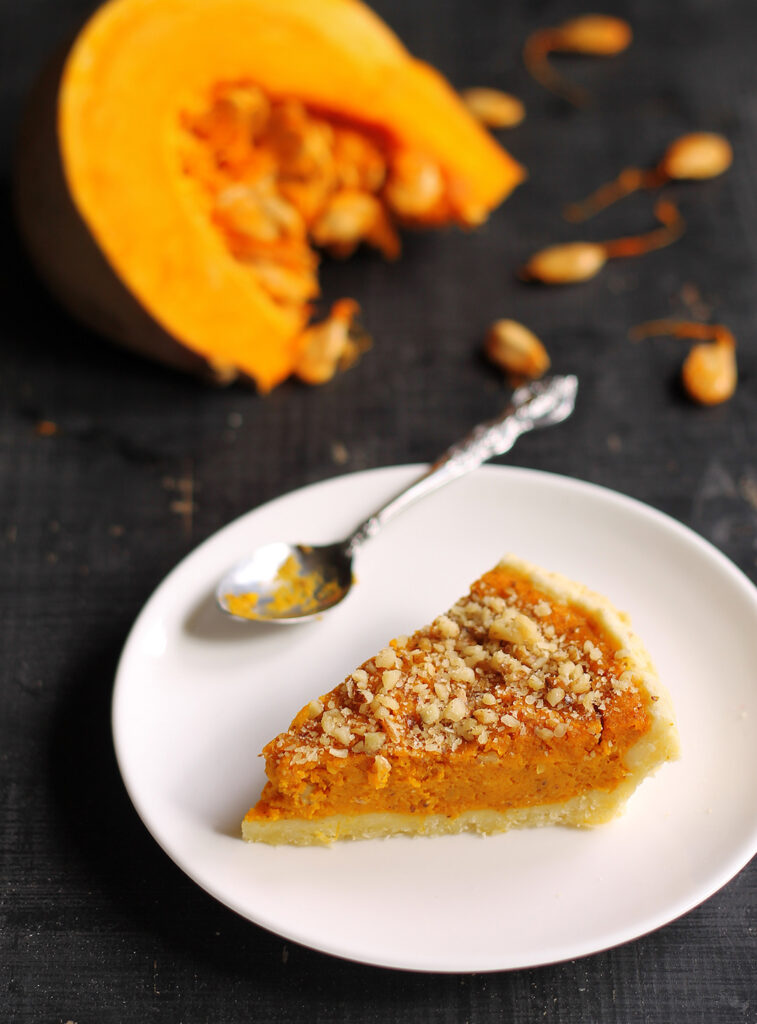 Silky smooth and creamy, this healthier pumpkin pie is dairy-free, gluten-free, and naturally sweetened. Made from scratch with fresh and wholesome ingredients.
Print Recipe
Pin Recipe
Ingredients
For the Crust
1½

cups

almond flour

½

cup

cassava flour

or arrowroot flour

½

tbsp

sea salt

4

tbsp

butter

chilled and cubed, or organic palm shortening

1

large egg

beaten

1

tbs

ice water

as needed
For the Filling
15

oz

pumpkin purée

or butternut squash purée*

½

cup

coconut cream

3

large eggs

½

cup

maple syrup

or honey

1

tbsp

pumpkin pie spice

or mix ginger, cinnamon, nutmeg, cardamom & cloves

¼

tsp

salt

4

tbsp

walnuts

chopped
Instructions
Make the Dough

In a food processor mix together the almond flour, cassava flour, and sea salt. Add the butter and pulse mixture until thick crumbs are formed. Then add the egg and tablespoon of ice water, and process until dough comes together.

The dough should be slightly moist (but not wet or sticky). If too dry add another tablespoon of water. Cover the ball of dough with plastic wrap and refrigerate for at least 1 hour.

Prepare the Pie Crust

Roll out chilled dough into an 11-inch circle between two sheets of parchment paper (for ease).

Remove top sheet of parchment and carefully place 9-inch pie plate on top of dough. With your hand under the parchment paper flip over dough and plate. Then gently press dough into the bottom and sides of the pie plate.

Fold excess dough over the sides, and crimp edges with your fingers.  Prick a few holes in the bottom and sides with a fork to stop air bubbles from forming. Chill for 30 minutes in fridge (helps crimping to set).

Bake the Pie Crust

While chilling, preheat oven to 350°F. Bake for 12 to 15 minutes, until lightly golden. Remove from the oven and set aside.

Prepare the Pumpkin Filling

In a large bowl whisk together the pumpkin puree, eggs, maple syrup, coconut cream, salt, and pumpkin pie spice.

Bake the Pie

Pour the mixture into the cooled pie shell and bake until the filling jiggles slightly when you wiggle it and the crust is golden, about 50 minutes. 

Cool at room temperature, sprinkle with walnuts and serve.
Tip
To make your own pumpkin pie spice mix:
1 tsp ground ginger
1 tsp ground cinnamon
1/4 tsp ground nutmeg
1/8 tsp ground clove (a pinch)
1/8 tsp ground cardamom (a pinch)
*15oz of pumpkin purée, is about 1

¾

cups.