Be you a minimalist or a workout gadget geek, one thing's for sure. A supportive, well-fitting sports bra is an absolute, non-negotiable must. Whether you're an A or double D, your breasts need the right support and perfect fit to battle the forces of exercise movement and gravity. If you haven't felt the siren call to head out on a quest in search of the perfect sports bra for your boobs, then know this. Science wants you to.
Why are Sports Bras Important?
Fun, ok not so fun, fact. Your breasts are essentially only supported by delicate, hair-thin strands of connective tissue, called Cooper's ligaments. While the chest does have muscles (pectoralis major and minor), these sit behind the breast and do not support it.1
In other words, breasts have virtually no support. Research shows that when you exercise, especially when you're running, your breast move vertically (up and down), horizontally (forward and backward), and laterally (side to side). Moving in all planes, the breasts move in a figure of eight pattern.2
Adding the movement from all three dimensions together, scientists found that on average an unsupported breast moves 4cm when walking and 15cm (almost 6inches) when running.3 Furthermore, research suggests that breast movement increases with breast size.4
This might explain why high-impact exercise such as running, jumping, and skipping rope is more likely to cause breast discomfort and pain than low-impact workouts. Breasts are also more likely to be tender around menstruation, such that at certain times women can suffer a double whammy of movement-related breast pain and breast pain linked to their menstrual cycle. Breast pain can lead to changes in gait and upper body movement, as well as cause women to change their workout routines.56
Last, but not least, regularly exercising without a supportive bra can lead to irreversible stretching of those fragile Cooper's ligaments that support the breast and the skin covering the breast tissue.7
The good news is that a correctly fitted, high-support sports bra can significantly reduce breast movement, the risk of sagging, and reduce up to 85% of breast pain symptoms.8910
However, more than 85% of women are not wearing the right bra.11 So, we compiled this easy, 4-step guide to help you find the perfect sports bra:
Let's get started!
Step 1
Determine Sports Bra Size.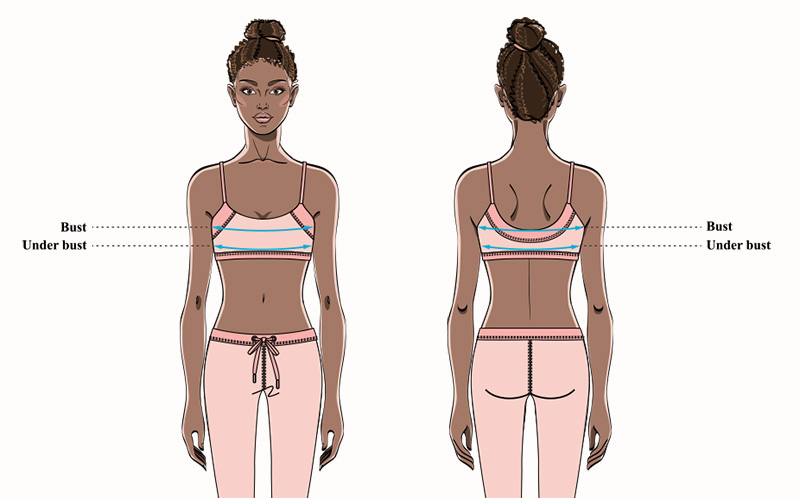 Most of us are wearing the wrong size bra. But a poorly fitting sports bra isn't just uncomfortable, it is also failing to support our breasts, reduce excessive movement, and prevent strain on the back, neck and shoulders.12
Ideally you should measure yourself to get an up-to-date and accurate picture of your bra size. If you do not have a tape measure to hand you can use your regular bra size as a starting point.
Find Your Band Size
Measure around your chest, just under your bust. Round to the nearest whole number. Do this in front of a mirror, to ensure the band is level and snug (but not digging into your skin).
| Rib Cage Measurement | Band Size |
| --- | --- |
| 25″ – 26″ | 30 |
| 27″ – 28″ | 32 |
| 29″ – 30″ | 34 |
| 31″ – 32″ | 36 |
| 33″ – 34″ | 38 |
| 35″ – 36″ | 40 |
| 37″ – 38″ | 42 |
| 39″ – 40″ | 44 |
Find Your Cup Size
Measure around the fullest part of your bust. You can do this with or without wearing a bra. If you wear a bra, ensure it is not padded. Again, do this in font the mirror to ensure the tape measure is level across your bust and back. Round to the nearest whole number. This is your bust measurement.
Your cup size is the difference between band size and this bust measurement. If you fall in between sizes, opt for the larger cup size.
Make sure you use your band size (not your rib cage measurement)
Difference
(Bust Measurement) – (Band Size)
Cup Size
3″
AA
4″
A
5″
B
6″
C
7″
D
8″
DD
9″
E
10″
F
Example
Determine band size.
You have a rib cage measurement of 33 inches. Using the first table, that translates into a band size of 38 inches.
Determine cup size.
You have a bust measurement of 43 inches. Doing the math:
[Bust measurement] – [band size]
43 inches – 38 inches = 5 inches
Using the second table, 5 inches translates into a B cup!
So, the right size sports bra would be size 38B.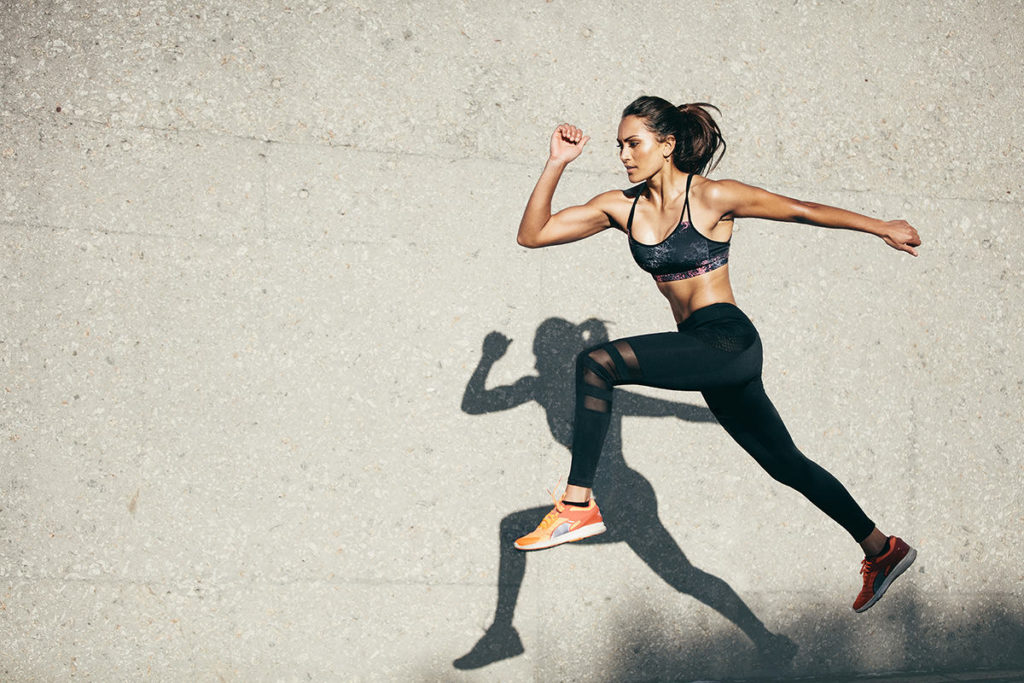 The goal is to find a sports bra that fits well, is supportive and feels comfortable. To choose the right level of support you need to consider the type of activity you plan on doing and your cup size.
Type of Activity
The higher impact the activity, the more support a sports bra needs to provide. Higher impact exercise means more intense movement (e.g. jumping, bouncing, or running), which leads to greater movement of the breast tissue.
As such, most sports bras are designed to provide greater support with increasing activity impact level, and are categorized into whether they provide low-, medium-, or high-support.
Low-impact: Walking, yoga, pilates, barre, strength training
Medium-impact: Hiking, road cycling, spinning, boxing, skiing
High-impact: Running, high-intensity workouts, aerobics, tennis, dance, mountain biking
---
Cup Size
This comes into play for women with larger cup sizes. Women with larger breasts may need to have greater support and choose a high-impact sports bra even when doing lower impact activities.
The table below shows how much support you need from your sports bra, depending on your cup size and level of impact of your chosen activity.
 
LOW-IMPACT
EXERCISE
MEDIUM-IMPACT
EXERCISE
HIGH-IMPACT
EXERCISE

A-Cup

Light
Light

Medium

B-Cup

Light
Medium
Medium

C-Cup

Light

Medium
High

D-Cup

Medium

High

High

E+

High

High

High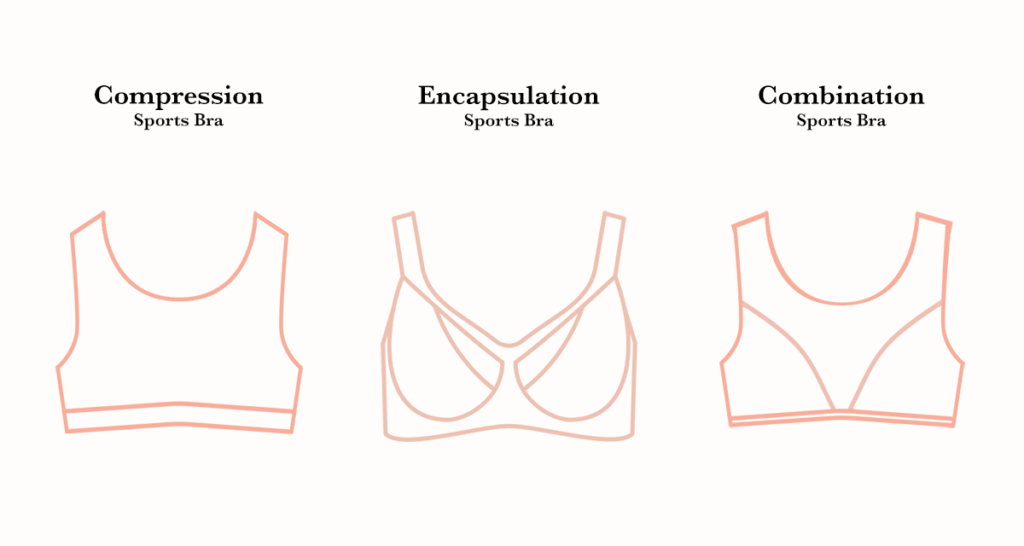 There are three basic types of sports bra:
Compression sports bras 
These compress breasts against the chest wall to restrict movement. They tend to be pull-on sports bras without any hook-eye fastening at the back. Compression bras do not have cups to keeps breasts separate. They are mostly not adjustable and come in simple S-L sizes, with no cup size. Compression sports bras can press breasts together to create an unwanted monoboob effect.

Best for A – C cups.
Encapsulation sports bras 
Here individual cups lift, surround and support each breast, keeping them separate, through seaming, molding, or underwire. Most regular non-sport bras work by this method. Encapsulation bras have a traditional hook-eye back clasp and cup/band sizing. This makes them very adjustable and better-fitting compared to compression bras. Encapsulation sports bras give a more natural shape than compression bras.

Good for larger cup sizes.
Combination sports bra (Compression + encapsulation) 
This type of bra uses a combination of techniques for extra support, so that each breast is supported separately in individual cups and compressed against the chest wall to stop breast movement in all directions.

Support for A to DD+ cups. Underwired bras can offer further support. Good for high impact activity.
Other Sports Bra Features
Other features to look for include:
Cups: Sports bra may have built-in or removable molded cups to add shape and definition. Cups can provide further support.
Straps: Wider straps provide support for fuller breasts, disperse the weight better and are less likely to cut into shoulders. Cushioned straps provide extra comfort. Adjustable straps help you to customize bra fit and can make the bra last longer, because you can tighten them as the bra stretches with age.
Strap style: Racerback styles can provide additional support for medium- and high-impact activities, as well as allowing greater range of arm motion. However, it can put pressure near the neck which can be uncomfortable.
Band: The band of the sports bra provides most of the support of your breasts – if correctly fitted. A wider band offers more support.
Underwire: Underwire can give further support and shape. It should lie flat against your chest, and should not poke or be otherwise uncomfortable.
Closure: Bralette/ crop top style sports bras do not have a back closure and you simply pull them over your head. Sports bras in a more traditional bra style have hook-eye back closures, which tend to provide more support for fuller breasts and allow you to adjust the fit. They're also easier to get on and off, and last longer.
Fabric: Sports bras should be made with wicking fabrics that direct moisture away from your skin to keep you dry and comfortable. There should be minimal stitching and seams to reduce friction.
The type of features found in sports bras tend to vary according to whether they are designed for low, medium, or high impact activity. The table below summarizes some of the features common to sports bras according to their level of support.
BRA SUPPORT
COMMON FEATURES
LOW
Thin straps/ bands
No strap/ band adjustment
Compression sports bra
No cup size, simple S-L sizing
Light-weight
MEDIUM

Wider straps/ bands
Compression or encapsulation bra

HIGH

Wide straps/ bands
Adjustable shoulder straps
Combination sports bra for maximum support
If you don't want to buy a bunch of sports bras for different activities, opt for a sports bra with the greatest support you need and use it for the other activities as well. For example if you run, buy a high-support sports bra and use it for yoga (low-impact) too.
If the bra is adjustable, you can adapt it a little to suit lower-impact activities where you need less support by slightly slackening the bra straps to increase comfort.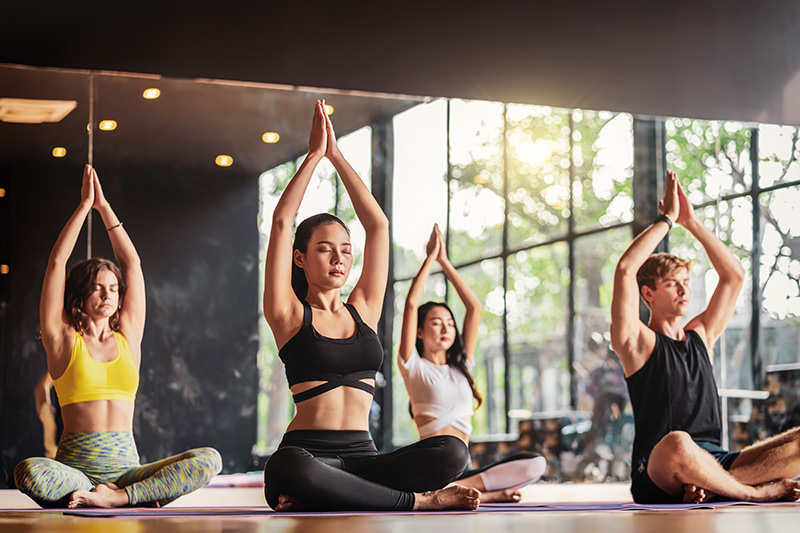 You've done the theoretical part of it all. You've figured out your bra size, how much support you need and have a good idea of the type of bra you're looking for. Now you need to make sure it fits you perfectly. Time for the last bit – practical experimentation.
Diverse factors such as breast weight, breast density, the way your breasts sit, your back shape, torso length, and even age will impact how a bra fits and whether it fits well. Furthermore, every brand fits differently with slight variations in sizing.
Therefore, have a look at the brands' sizing charts and whatever you do, you must absolutely try on a wad of different sports bras before buying. That means heading to a good sports store (with friendly, knowledgeable staff if possible!) and trying on a variety of brands and styles in varying sizes to finesse fit. You want the fit to be perfect in real life – not just in theory. Support, fit, and comfort are your deciding factors.
A well-fitting sports bra should feel slightly more snug than a regular bra, but still should not be uncomfortable.
Before assessing whether the sports bra you're trying on fits correctly, you first need to situate your breasts:
Bend forward
Using the opposite hand, scoop your breast so that it is fully supported in your hand.
Reposition and center your breast, so that it is completely in the cup with the nipple in the center.
Once you've done this, you can determine whether or not the sports bra fits perfectly.
How to Test For a Perfect Fit
Below are guidelines on how to assess whether a sports bra fits perfectly:
Band. The band should be snug around your rib cage and should be level. For correct sizing, you should be able to fit two fingers between your back and the band. When being fitted for a new sports bra, it should fasten on the loosest hook, so that as it stretches out with age you can tighten the fit.

Too big: The band is not level, gapes or rides up your back when you lift your arms. Your breasts peak out underneath the band.
Too small: There are back bulges. Your breasts bulge over the bra.
Straps. The straps should feel snug, secure and comfortable, with minimal give so that movement is kept to a minimum. You should be able to fit two fingers between your shoulder and the straps, but no more. If the strap is adjustable, adjust accordingly.

Too loose: Straps are falling off your shoulders or there is a lot of breast movement.
Too tight: Straps are digging in to your shoulders.
Cups. The cups should fully contain and, for maximum support, completely cover the breasts. The cups stop the breasts moving upwards and sideways.

Too big: There are gaps, the cup fabric is baggy or wrinkled.
Too small/ wrong style: Breast spilling out, compressed or cups cutting into breasts.
Stress test. Give each sports bra a mini workout and mimic the activity you plan on doing – as best you can! For example, if you're looking for a sports bra for running, jump or run in place. There should be minimal movement. Your breasts should feel supported and secure, and the bra should feel comfortable. Don't settle for anything less!
How to Care for Your Sports Bra
Like most other things, sports bras don't last forever. While it does depend on how much you wear it and whether you rotate between other sports bras, generally sports bras should be replaced about every 6 – 12 months.
The elasticity of sports bras degrades with time and use, which means the bra loses it stretch and becomes less supportive. This process is hastened by the heat of a clothes dryer.
You can lengthen the life of your sports bra by skipping the drying cycle and allowing it to air-dry. It's also best practice to avoid fabric softener, as this negatively impacts the breathability of the fabric. Wash your sports bra after every use at a low temperature with minimal spin.