This brightly-colored detox water hits all the right buttons. Sweet, flavorful, natural and a delight to the eye. If you're drawn to brightly colored drinks which are often packed with artificial ingredients to make them taste and look good, this healthy watermelon infused water is a great natural alternative.
Easy and quick to make. And if you need it, yes you can add a little extra sweetener. After all, even with a dash of honey or sugar, this natural watermelon, mint and lime infused detox water beats most store-bought drinks hands down.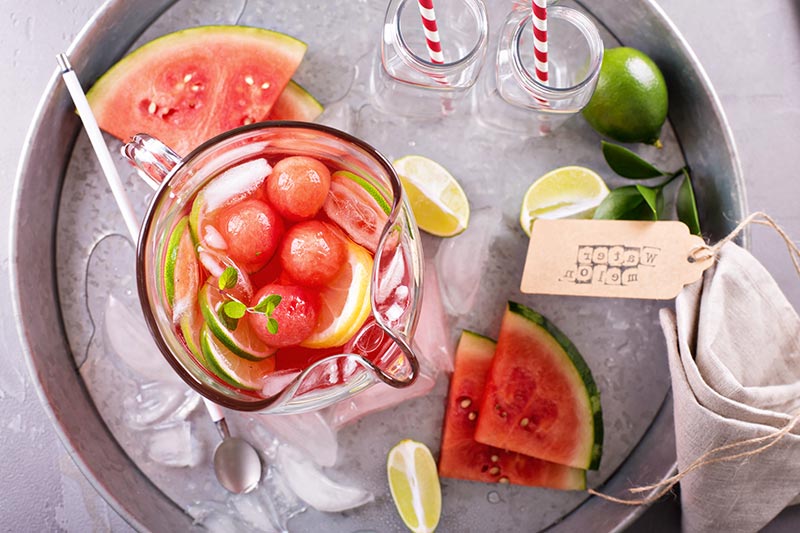 WATERMELON-MINT DETOX WATER RECIPE
Perfect for a hot summers day, this watermelon detox water is sweet, soothing and fresh. We show you how to make watermelon infused water 2 ways. And here's how to make it.
Watermelon-Mint Detox Water Ingredients
4 cups watermelon, cubes or balls (if you prefer use seedless watermelon)
1/4 cup fresh mint leaves
1/2 lime thinly sliced
1/2 lemon thinly sliced
2 liters of water (less if you prefer a stronger infusion)
Easy Watermelon-Mint Detox Water Directions (Unsweetened)
Place watermelon cubes, slices of lemon and lime into pitcher (to avoid bitterness, peel lemon and lime). Lightly crush watermelon, lemon, and lime. Crush mint leaves in your hand by lightly rubbing your hands together, then place in the pitcher.
Add 2 liters of still water. If you prefer a sparkling detox water, add 1 liter of sparkling water and allow to infuse and then add the rest of the sparkling water when ready to serve.
After adding 2 liters of still water or 1 liter of sparkling water, place pitcher in the fridge for at least 2 hours to allow the fruit and mint to infuse the water.
Take the pitcher out of the fridge, stir the ingredients well.
Optional: If you wish you can strain the detox water and discard (or eat!) the solids. Then either drink it as is or garnish with fresh watermelon, lemon and mint to serve.
Add ice.
 Refrigerated, the watermelon detox water will keep for up to 2 days.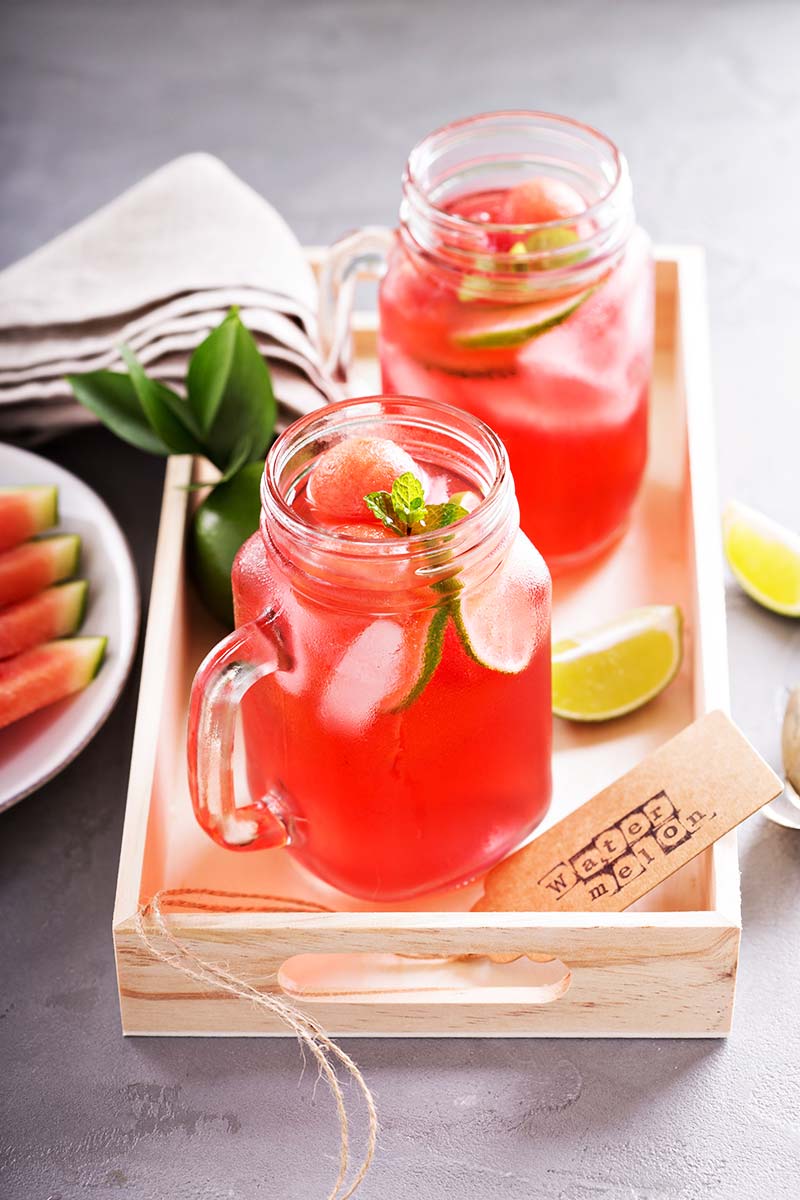 Sweetened Watermelon-Mint Detox Water Directions

Pour 1 cup of boiling water over crushed mint leaves and 2 tablespoons of honey or sugar. Stir mixture until sweetener dissolves and allow to steep and cool for 15 minutes.
While the mixture is cooling, put watermelon and 3 cups of water into a blender. Blend until smooth and strain watermelon liquid into a pitcher. Discard the solid leftovers.
Now strain the mint and sugar water, and discard the mint leaves. Add into the watermelon juice and top up with water. Add lime juice to taste and stir.
Garnish with extra watermelon, mint and lime slices if desired.
Save
Save
Save
Save
Save
Save